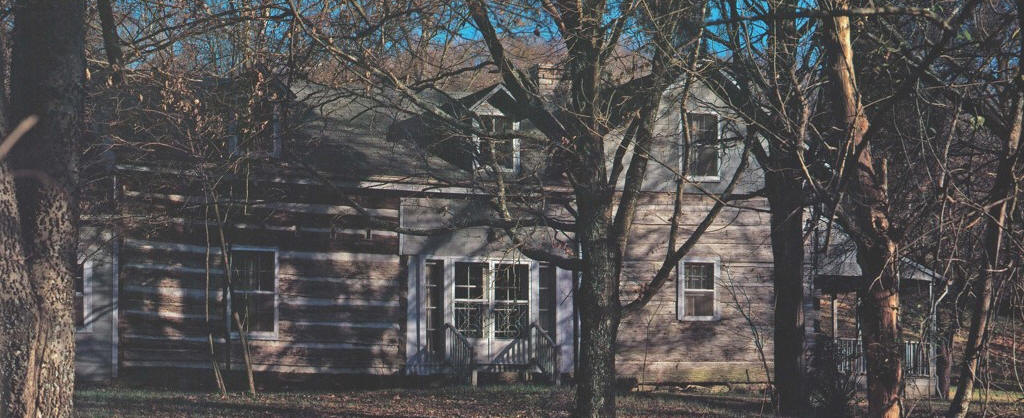 (Photo from A Past Remembered-A Collection Of Antebellum Houses In Davidson County.
The right side of this house.is the cabin build by David Ralston in the late 1780s.)
The David Ralston Story and Family
(Updated December 7, 2022)
NAME ORIGIN
For many years it had been assumed that everyone with the surname "Ralston" was related and could be traced to a common ancestor in Scotland. This Scotish "Ralston" line, of Renfrewshire, often called "Ralstons of that ilk", was a line into which many "Ralston" genealogies "shoehorned" their lineages, dispite lack of documentation.
However, modern y-DNA testing has shown that the above is not true. There are at least seven different lines of the surname "Ralston" or a variation of spelling. Only one of these lines can trace with documentation to the "Ralstons of that ilk."
The descendants of David Ralston are not related to "Ralston of that ilk." The origins of David's line is currently unknown, though it might be Scotland. Y-DNA matches of David's descendants show that he was related (shared a common ancestor) with many "Ralston" men, primarily with roots in Ulster. These men related to David may be found at https://ralstonproject.com/family-groups/ under the heading "Group 1: I-M223 Ulster". Note the variety in spellings of the name. Most in Ireland use "Roulston" and elsewhere it is spelled "Ralston", "Rolston", "Raulston", "Rolleston", etc. Current estimates are that the common ancestor of these Ulster men was born c1660, so it is possible that David's grandfather to second great-grandfather could have been the common ancestor of all this group. Y-DNA also shows that haplogroup matches with others estimated prior to c1660 are not named "Ralston", but match from c1400. This indicates that the c1660 ancestor may have been the first named "Ralston" or of a line that originated between c1400 and c1660, but all surviving descendants are from the c1660 ancestor.
Update: Current estimates of the common ancestor of this "Ralston" line has now been revised by the experts to 1600. This pushes the first Ulster "Ralston" ancestor back a couple more generations.
IRELAND
Prior to the War of Independence, David Ralston left two children in Ireland and came to Pennsylvania. There are no known records of David in Ireland, his marriage, birth of his "Irish" children, nor of his emigration to America. It is unknown where in Ireland David lived, but his grandson, Andrew, married a woman from the townland "Goland" which is close to Castlederg, County Tyrone. An assumption could be made that Daivd lived close to that area. This is also close to where the ancestors of many y-DNA matches lived.
PENNSYLVANIA
In Pennsylvania, David married his second wife, Mary Reid. There is no known record of this marriage. Through later land records it could be determined who Mary Reid and her family were.
David Ralston and Alexander Reid Connection
The only records found for David in Pennsylvania were from the period of 1778 to 1782. During this time David and wife, Mary, lived in Milford Township, Cumberland County, Pennsylvania. Also in Milford was the family of Alexander Reid, Mary's father.
Milford Township, Cumberland County, Pennsylvania, Tax Lists, 1779-1782
Revolutionary War Duty - While living in Milford, David (as well as his father-in-law and brother-in-law) served on active duty in the Pennsylvania Militia.
The Pennsylvania Militia, 1778 and 1781
KENTUCKY
The last record of David living in Pennsylvania is 1782 and the first record of him living in Tennessee was 1787. In 1782, Mary's father, Alexander Reid, received a grant for 100 acres of land and another for 200 acres, both on Gilkeys Run in Jefferson County, Virginia [now Kentucky]. The Reid family settled in this area (just south of current Bardstown, Nelson County). It is likely that David and Mary were living with the Reids in Kentucky between 1782 and 1787.
TENNESSEE
The first records of David in Tennessee are a 1787 land record and 1787 census of the Cumberland Settlements. David's brother-n-law, Alexander Reid, obtained land in Davidson County in 1785, so David may have been in the Nashville area as early as 1785. David's land was officially "located" in 1787 and surveyed in 1788. On this land he built a sturdy cabin for his family.
Timeline of David and Mary from Pennsylvania to Tennessee
Family stories and Genealogy:
m, Unknown (Ireland)
Isabell Ralston Bef. 1775–

Robert Ralston Bef. 1775
m. Mary Reid 1757–Bef. 1815
Alexander Ralston (Maj) 1779–1861

James Reid Ralston 1781–1853

Samuel Ralston 1785–

John Shelby Ralston 1787–1865

George Ralston 1790–1838

Catherine Ralston 1793–1868

David Ralston Jr. 1798–1875

William Ralston (Rev) 1801–1870
Remembered Ralston Reletives: A collection of descendants and relatives of David Ralston, who were noteworthy or achieved some degree of public recognition. This list is a not only of direct descendants of David Ralston, but also descendants of other "Ralstons" shown by yDNA to be closely related to David.
Ancestor Videos (MyHeritage® DeepStories) *New
The Ralston Family Document This is the original family history that my brother and family published several years ago. It is a 246 page document in MS Word format. It can be downloaded here as a "zip" file from which the Word version may be extracted. It is a large file, so will take a several minutes to download.
Special thanks and acknowledgements to:
My brother, Kenneth Ralston (1946-2021), for all his work putting together his Ralston family history.

Jurian Ralston (1896–1958) (desc of George Ralston) for her work on the Ralston family history.

Martha Jane Pullen Tibbs (1932–2021) (desc of John Ralston) for her work on the Ralston family history.

Sheila Reid (desc of Alexander Reid) for information on Mary Reid and the Alexander Reid family.

Evelyn Christensen (desc of Samuel Ralston) for photos and information about Samuel's son, David Thompson Ralston, and family.

Deborah Johnson (desc of Alexander Ralston) for information and documentation regarding Alexander and family.
For questions, comments, or corrections regarding this website, please email: edralston722 (at) gmail.com