George Ralston
1790–1838
George Ralston, fifth son of David Ralston and Mary Reid was born in February 10, 1790, Davidson County, Tennessee and died September 6, 1838, Rutherford County, Tennessee. He was raised in the Cumberland Settlements near Nashville. George married December 1, 1818, Elizabeth Steel Marshall (1796-1854). George and family settled in Rutherford County, just south of Nashville, close to present day Smyrna.
George was a founding elder of the Smyrna Presbyterian Church, established 1810. organized 1820.
<![if !vml]>

<![endif]>
Smyrna was not established as a city until 1869.  The town that George and family lived in was named Jefferson, which was the county seat of Rutherford County from 1803 to 1811.  (A new town was laid out for the county seat, originally named "Cannonsburg", then renamed "Murfreesborough".  Murfreesborough, now called Murfreesboro, also served as the Tennessee state capitol for several years.  The old town of Jefferson no longer exists.  It was removed from the maps when Percy-Priest Lake was created in the 1960s.)
TN Cousins by W.S. Ray, Page 617, "Rev. Samuel Hodge organized the Smyrna Presbyterian Church about 1820 and the members lived mostly at or near Old Jefferson.  The first elders were Theophilius Cannon, William Martin, George Ralston and Samuel Bowman.  The building was burned by the Federal army during the War Between the States, but was later restored."
George was a farmer and cabinetmaker:
From Artisans of TN Through 1850
"Rawlston George, cabinetmaker, Rutherford Co 1823. Took Charles Singleterry as an apprentice".  
"George Ralston took Burton Morris as a apprentice 15 Oct 1827 and Walter Bernard 1 May 1837."
George Ralston died in 1838 and is buried in Cannon Cemetery behind Smyrna Airport (the old Sewart Air Force Base).
Elizabeth died in 1854 and is also buried at Cannon Cemetery.

<![if !supportLists]>1. <![endif]>James Harvey Ralston (1819–1883) m. 1867, Marshall County, TN, Sarah Harris McGaugh (1836–1916) farmed in Rutherford and Marshall Counties, TN
<![if !supportLists]>a. <![endif]>Betty Florence Ralston (1868–1953) m. 1908, Marshall County, Henry Victor Smith (1868–1956) lived in Marshall County, TN
<![if !supportLists]>b. <![endif]>George Gilbert Ralston (1870–1953) m. 1893, Marshall County, Mollie P Prigg (1874–1963) farmed in Marshall County, TN
<![if !supportLists]>c. <![endif]>Anna Kate Ralston (1872–1961) m. 1894, Marshall County, Albert Columbus Ealy (1864–1948) lived in Marshall County, TN
<![if !supportLists]>d. <![endif]>James H. Ralston (1877–1927) m. 1925, Marshall County, Icie Burgess (1890–1986) farmed in Marshall County, TN
<![if !supportLists]>2. <![endif]>David Newton Ralston (1820–1885) m. 1842, Cannon County, Isabella Albina McKnight (1823–1866) cabinetmaker and carpenter, Cannon and Rutherford Counties, TN
<![if !supportLists]>a. <![endif]>Elizabeth Ann Ralston (1846–1848) Rutherford County, TN
<![if !supportLists]>b. <![endif]>Mary Matilda Ralston (1848–1884) m. 1875, Rutherford County, TN, John Stephen Foster (1847–1933) Mary died in childbirth, lived in Rutherford and Wilson Counties
<![if !supportLists]>c. <![endif]>Alexander McKnight Ralston (1851–1902) m1. 1879, Rutherford County, TN, Louisa Ransom (1855–1887), m2. 1893, Josephine Rivens (1866–1954) Alexander and Louisa had two children, one died at one year of age, the other married, (no children) and lived in Nashville.  Alexander and Josephine had four children.  Two died of diphtheria in the spring on 1899.  After Alexander's death in 1902, Josie remarried William Perry and moved to California with her two Ralston sons, William Robertson and Theodore Weakley.  Both boys attended the University of California at Berkeley, with William later becoming a professor at Berkeley in the Agriculture Department.  William Robertson's son William, Jr., was an Air Force Major.
<![if !supportLists]>d. <![endif]>George Clinton Ralston (1853–1930) m. 1878, Rutherford County, TN, Fannie B. McKnight (1856–1937) a Presbyterian elder, blacksmith, carpenter, miller, operator of an undertaker shop with a two-horse hearse in Rutherford County.
<![if !vml]>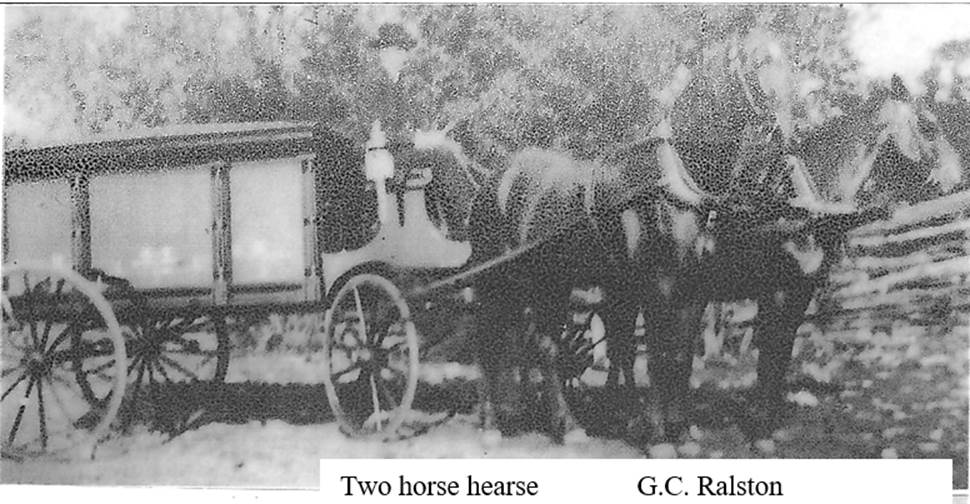 <![endif]>
<![if !supportLists]>e. <![endif]>Margaret Marshall Ralston (1856–1885) m. 1884, Rutherford County, TN, John Stephen Foster (1847–1933) after her sister Mary's death, married her widower, lived in Rutherford and Wilson Counties
<![if !supportLists]>f. <![endif]>Sarah Catherine Ralston (1858–1940) m. 1886, Murfreesboro, Tennessee, Nathan LaGrande New (1850–1921) Rev. New was a Presbyterian minister.  Aside from Tennessee, the family lived in Indiana, Illinois, Texas, Oregon, Kentucky, and Iowa.  Sarah was living at Storm Lake, Iowa, when she died.
<![if !supportLists]>g. <![endif]>David Newton Ralston (1860–1951) m. 1890, Cannon County, TN, Laura McBroom (1868–1948) carpenter.  Lived in Cannon County, TN; OK; and Prairie Grove, AR
<![if !supportLists]>h. <![endif]>Willie May Ralston (1862–1863)
<![if !supportLists]>3. <![endif]>Robert Lock Ralston (1822–1895) m. 1848, Williamson County, TN, Mary McEwen Stevens (1825–1902) cabinetmaker and farmer in Rutherford, Gibson and Williamson Counties [Goodspeed's History:  Robert L. Ralston cabinetmaker, Rutherford Co. 1850 native of Tenn,, $2,200 worth of land Robert L. Ralston m. Mary M. Stevens 20 Dec 1848]
<![if !supportLists]>a. <![endif]>Caroline Elizabeth "Bettie" Ralston (1849–1910) m. 1867, Gibson County, TN, Luther Knox Gillespie (1840–1911) Bettie and Knox had six children.  Only one, Florence, survived past 1900.
<![if !supportLists]>b. <![endif]>George Cannon Ralston (1851–1921) unmarried, farmed with brothers in Williamson County
<![if !supportLists]>c. <![endif]>Margaret McEwin Ralston (1855–1945) unmarried, lived with brothers in Williamson County
<![if !supportLists]>d. <![endif]>Henry Stephens Ralston (1857–1940) m. 1907, Williamson County, Johnnie Wagner (1870–1946) no children, farmed with brothers in Williamson County
<![if !supportLists]>e. <![endif]>Robert Luke Ralston (1860–1926) m. 1891, Marshall County, MS, Mary Elizabeth "Lizzie" Shaw (1872–1954) farmed in Williamson County, TN, and Coahoma County, MS. (There are differing accounts as to Robert's middle name, including Locke, Lock, Luke, and Laplsey. His aunt, Sarah, says "Luke".)
The Official and Statistical Register of the State of Mississippi 1917: Legislative Department, Sketches of Members of the House
<![if !vml]>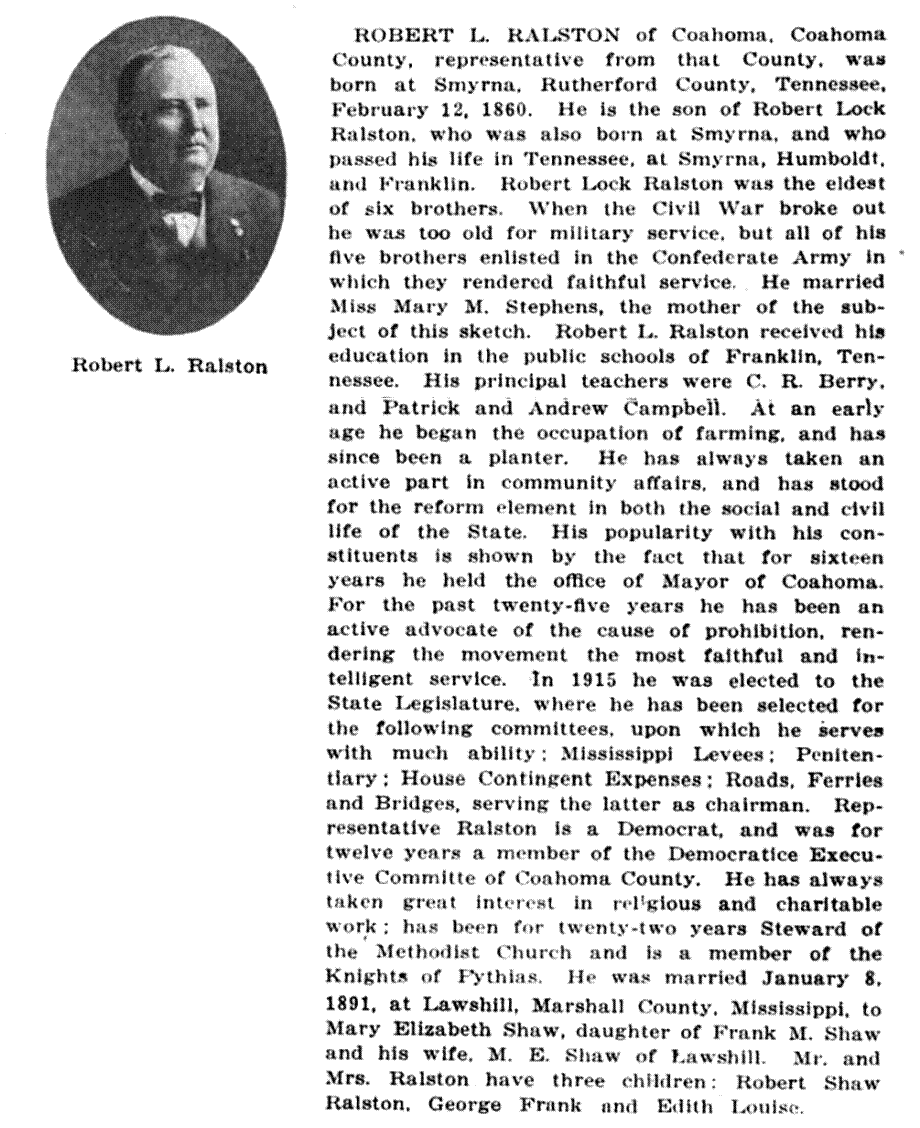 <![endif]>
[Note:  This article states that Robert Locke Ralston, was the eldest of six brothers.  Records show that Robert did have five younger brothers, but also had two older brothers, so was one of eight brothers. Genealogist Juriah Ralston (1896-1958), granddaughter of Robert's elder brother, David Newton, confirms this, as does the memoirs of Sarah Ralston Smith, sister of Robert.]
<![if !supportLists]>f. <![endif]>William Marshall Ralston (1863–1933) unmarried, farmed with brothers in Williamson County
<![if !supportLists]>4. <![endif]>Alexander Hamilton Ralston (1823–1869) m. 1855, Rutherford County, TN, Harriet R Thompson, (1827–1910) no children.  Was unsuccessful in his farming operation and, being in debt to his brothers, sold out and went to Arkansas to try to recover and repay them.  He died of cancer before being able to do so.
<![if !vml]>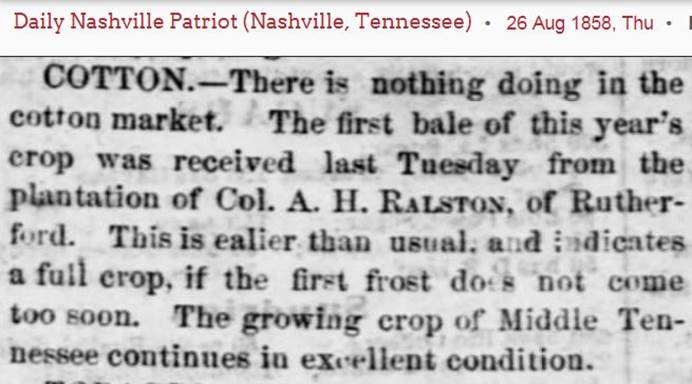 <![endif]>
<![if !vml]>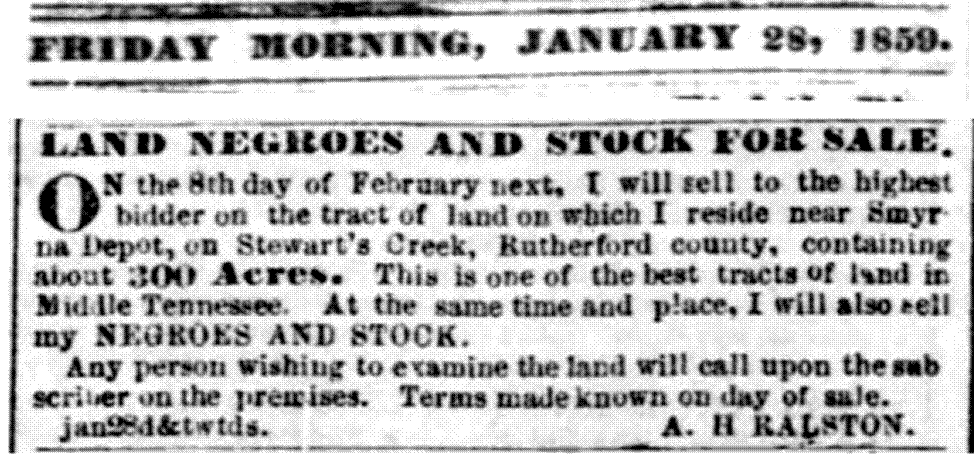 <![endif]>
<![if !supportLists]>5. <![endif]>William Marshall Ralston (1825–1862) unmarried, lived in Rutherford County, West Tennessee, and Mississippi.  Killed during Civil War.
<![if !supportLists]>6. <![endif]>John Clinton Ralston (1826–1849) unmarried, lived in Rutherford County
<![if !supportLists]>7. <![endif]>Mary Reid Ralston (1827–1902) m. 1858, Rutherford County, Silas H. McKay (1807–1884) lived in Rutherford County, Kentucky, and Montgomery County, TN
<![if !vml]>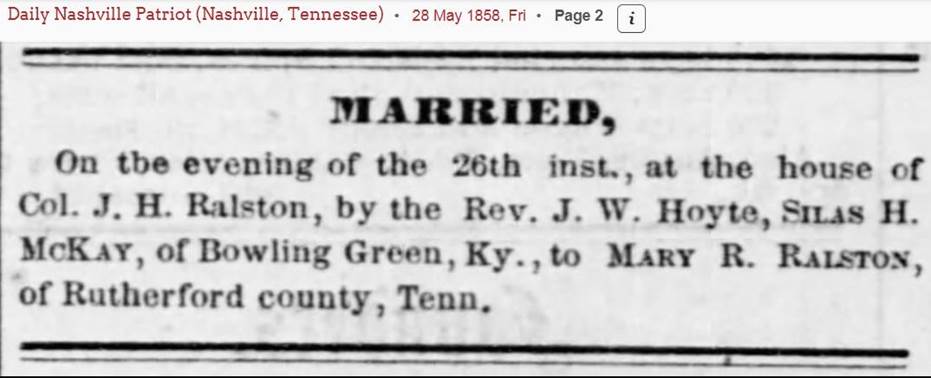 <![endif]>
<![if !supportLists]>a. <![endif]>George Ralston McKay (1859–1870) lived in Warren County, KY
<![if !supportLists]>b. <![endif]>Sallie Dean McKay (1862–1866) lived in Warren County, KY
<![if !supportLists]>c. <![endif]>Bettie Kate McKay (1864–1934) m. Samuel Elijah Swift 1862–1934 no children - lived in Warren County, KY, and Montgomery County, TN
<![if !supportLists]>d. <![endif]>Maggie Marshall McKay (1866–1866)
<![if !supportLists]>e. <![endif]>Myra Gill McKay (1868–1926) m. 1895 Perry Lee Harned (1866–1945) four children - lived in Warren County, KY, and Montgomery County, TN
<![if !supportLists]>8. <![endif]>(Capt) Gilbert Washington Ralston M.D. (1829–1867) unmarried – practiced medicine in Rutherford County. Later moved to Arkansas.
<![if !supportLists]>9. <![endif]>Margaret Jane Ralston (1830–1904) m. 1878 (widower) Joseph Reece Newman (1824–1914) no children – lived in Giles County, TN
<![if !supportLists]>10. <![endif]>Martha Catherine Ralston (1832–1861) m. 1860, Rutherford County, TN, Edward Greenberry Bartholomew Lee (1825–1900) lived in Rutherford County
<![if !supportLists]>11. <![endif]>(Lt) George Green Ralston (1833–1864) lived in Rutherford County and Mississippi.  Died in Pennsylvania during Civil War
<![if !supportLists]>12. <![endif]>Infant Ralston
<![if !supportLists]>13. <![endif]>Sarah Ann Ralston (1836–1919) m. 1876 Zapher Smith (1825–1910) lived in Montgomery County.
Memoirs of Sarah Ralston Smith:
History of my family, written when Mr. Smith was sick, dedicated to family living.
Mrs. Z. Smith, Clarksville, Tenn.
How fitting that I should leave to friends and relatives thoughts of rejoicing and anticipations of my life in the retrospective.  There has been so much of darkness and brightness, but the darkness has been obscured by the perfect day that gleams to me in the future of an eternal home with loved ones gone and yet to go.  It has been always a delight to work for the good of others.  Now I am being sand-papered for the finishing process, hope twill have its perfect work.  Know it will for tis in the hands of a loving and skillful Workman.
Am the nurse of my invalid husband who is blind and childish.  Hope and believe he is receiving the sand-papering touches for the last polishing.  Hope we may shine in perfect glory in our Master's House.  We are often at home alone, he gets as quiet as tis possible and there is death like silence.  On account of my physical condition am afraid to exert a great deal, having had an aunt to die the same night her husband died.  My mother had heart trouble; had three sisters to die with it; a brother, Green, when lying in prison at Chester Penn. having lost his foot in the Battle of Gettysburg, on hearing of the defeat and retreat of the southern Army his nurse said he said he did not want to live, turned over and died of a broke heart.  And I cannot but believe that I am to go suddenly as have been warned to be ready, for can know not what hour the Son of Man cometh.  Hope He will find me faithful at my post of duty.  Am the youngest of thirteen children, all left me here to battle without them, but they are waiting for me.  My father died when I was a babe, leaving me with old men and women interested in me and was almost adopted by two. Having daughters about my age when coming to girlhood, they, the fathers, did not like for me not to have what their's had, they being rich were able to divide.  I was not born rich nor have I been in my life, but I have never felt I would have to beg bread for I am the seed of the righteous and claim the Bible promise.
July 20th.  My niece, Betty McKay, on whom I am greatly dependent and whom I love, has been sick.  One can hardly imagine my anxiety.  She is restored to her health again and I am rejoiced.  While she was sick, her sister, Mrs. Harned, came to our relief and did what she could for our relief and pleasure, so have not suffered.
In this will give a short family history.  My parents' family records are among my papers.
My grandfather Ralston (David) married a Miss Mary Reid of Scotland.  Gilbert Marshall married Margaret Wilson, and a nobler woman never lived.  Can remember her at home with we children asking us the Catechism.  She was a Cumberland, and Scotch enough to know the questions and the answers of that grand old text book.  She raised 14 noble men and women, and left 80 descendants.
My mother, Elizabeth Stul Marshall, married George Ralston.  To them were born 13 and 12 were raised to be grown.  Mother was a member of Smyrna Presbyterian Church.  (Father, being elder, commanded regard and respect from all.)  Mother, a quiet, loving woman, ruled her children with love.  Not one of them could recall a whipping or cross word from her.  When I was through school, she laid down her work Aug. 25, 1854 and went to the rest prepared for her.  Have often wondered if she was my guardian angel and could see the many mistakes of my life.  If so, I know it increases her love for our Savior who could forgive so much.  He knows our every weakness and is able and willing to be our help in every time of trouble.
1st – James Henry filled the place of father to us all till the 4th brother was old enough to take charge of business.  He petted and nursed me until I was large enough to be ashamed to be petted.  He worked for himself until my mother's death.  Then, by a good neighbor's buying his interest in some land, he was able to buy the homeplace and make a home for the girls who were all single.
(Martha Gouch and I were friends like David and Jonathan – the truest, most unselfish friend that I ever had.  She being rich had many things to divide with me.  Often would go for me and take me to her home and keep me until I thought I must go home.  She offered to teach me music, and I, a goose, did not avail myself of the offer.  She married and still divided her love with me.  I was teaching in the neighborhood and her brother – cold mornings – would go to school and have a fire for me when I got there.  She died after a year of married life.  I had gone to Kentucky to sister Mary's and went to see her.  On my arrival she threw her arms around my neck and said, "I thought you would come," and died without saying more.  Will that be my greeting when we meet again?  After her death her mother told me that she and brother Gilbert were once engaged to be married but a malicious man broke up the engagement with lies.  After the war this brother got back to the neighborhood penniless and that mother was the first to hand him $25.00.)
James Henry lived to be a bachelor and went into the Army of the Civil War, in 20 TN Reg. was in Battle of Fishing Creek and there, within twenty steps of the Federals, shielded by smoke, picked up Col. J.S. Gouch, he having been wounded.  He got help and the two carried him down a branch 12 miles - sometimes in water to keep from being tracked – got across the Cumberland, and then walked 6 miles for a doctor.  The ball was extracted within an inch of his backbone.  Then Col. Gouch was carried home and I was there to receive him.  Before he was entirely well, he had to go with the army south and be taken prisoner.  Brother never was well again, contracting diarrhea of which he died.  He was discharged from the army and went to Marshall Cty where he thought he would live a quiet life but was reported on and arrested on going by to see a sister.  She prevailed on him to take the oath, went back to Marshall Cty, and married. a Miss Hunter.  To them were born 4 children.  Bettie married a Smith, George a Miss Pig, Anna a Mr. (Ealy), James unmarried.  Someone said they were the best children in the state.  Brother was an elder in the nearest Presbyterian church: died in the faith.
2nd – David Newton married, 9 Oct 1842 a Miss Essabella A. McKnight and lived and died in the faith.  To them were born 8 children.  Elizabeth died when 8 years old and could read, Mary married Mr. Foster, Alex married Miss Ransom – 2nd marriage a Miss (Bivins). Mary died and Maggie married Mr. Foster, Sallie married Mr. New, Dave a Miss (McBroom).  David, a quiet Christian, died a member of the Murfreesboro Church.  Was so amiable don't think anyone ever saw him angry.
3rd – Brother Alexander Hamilton married a Miss Thompson, failed in business and, having a lame ankle, said he had a higher duty than giving up the army, - paying back debts his brothers had paid for him.  He went to Arkansas to do it and there he was overtaken by that miserable plague cancer and died.  Though not a member of any church, he died a believer and trusting Christ for salvation.
4th – Robert Locke married a Miss Stevens.  To them were born George Cannon, Elizabeth married a Mr. Knox (Gillespie), Henry Stevens married a Miss Johnnie (Wagonner), Robert Luke married a Miss (  ), Maggie now single.  (William never marries).  My brother Robert did not go into the army but had to do battle with security debts and poverty.  Was deacon in the Smyrna Church.  After the war he moved near Franklin and his work was there till he died in the faith he had lived.
5th – Brother William Marshall never married but his life was full of good deeds.  Settled in West Tennessee for a while and went to Corinth Miss., and engaged in lumber business.  Ever ready for good works he took a scholarship in the Corinth Female Academy and gave it to Miss Fannie Reynolds, a promising daughter of the man with whom he boarded.  Brother William was in the first battle of Mansess and I have a letter of his description of it.  Tis said he was the first to put his hands on Sherman's battery, the capture of which turned the tide of the battle.  After 2 battles, more, he and Brother Green were lying behind a log.  On raising his head he was killed.  Green wrapped him in his blanket and buried him under a beech tree – thinking he could take him to Smyrna when he could cut his name on the tree.
6th – Brother John Clinton lived to age 22, a quiet Christian life, never sang in life but on his death bed sang a favorite hymn through.
7th – Sister Mary Reid – many are living to testify to her good qualities, a firm Christian, a brave character, a 2nd mother to me.  After mother's death I was her charge and not separated much.  We made a visit to Bro. William's in West Tennessee which we enjoyed.  Returned on account of illness of Bro Gilbert.  In '56 she was married to Mr. McKay and went to KY to live; there raising his 5 boys who rose up to call her blessed.  To her were born 5 children: George Howell died at 11 years of age but a loving Christian.  Bettie Kate, who is now with me and has never been separated from me long at a time, is now my comfort and stay.  Sally Dean should have come in before Betty.  She died when four years old.  She seemed an angel on earth. 4th – Maggie Marshall died an infant and joined the angel band.  5th came Myra Gill who is now Mrs. Harned of Clarksville.  She is filling a noble mission in life.
8th – comes Gilbert Washington, the companion and cheer of my school days, every ready to share my burdens in any way.  He studied medicine and practiced in Rutherford until disappointed in love.  He went to Arkansas till he volunteered in the 9th Ark. Reg.  Was wounded at Nashville, taken prisoner, carried to Camp Chase, carried to South Carolina and exchanged.  Had $30.00 (stuffed in a comb case) that his friends had given him at Franklin which he used to bring him back to his old neighborhood.  He desired to go back to Arkansas and his friends sent him back.  He thought he could collect ante bellum debts but died before he did it.  His life was one of Christian cheer.
9th – comes Margaret Jane, a quiet noble Christian woman.  She married Mr. Newman and lived with him a devoted Christian life near Bethany Church in Giles County, Tennessee (Mrs. C.C. Martin, a step-daughter.)
10th – Martha Catherine, another noble Christian woman, married a Mr. Lee and died about a year afterward leaving an infant, George Lee, who is now battling with life near Nashville.
11th – George Green, my playmate and childhood companion, a jolly good Christian man; was associated with Brother William in business in Mississippi.  He was engaged to Miss Fanny Reynolds when he went into army, in 2nd Miss. Reg. of death.  I have heard he was buried in Chester, Pa.
12th – an infant born dead.
13th – myself have had a life of pleasures and trouble, downsittings and uprisings; taught school a good deal and had pleasant memories connected with the work.  Taught 15 months at Smyrna and taught the memorable Sam Davis.  He was the one who never had to be corrected in school.  He had an honest, upright father, and a good grandmother and a mother like Timothy.  He had a brother full of mischief and can recall Sam's remark when once I corrected him.  "I don't know what makes Oscar so bad." This was the year before he went into the army.
NOTE: This was copied from the original which was on the back of a 1907 calendar, and was rearranged September 18, 1931 by Juriah Ralston, Mrs. E. Smith's great niece.  Copy written: February 9, 1934.