Andrew Ralston
Andrew Ralston 1798–24 Oct 1863, grandson of David Ralston 1741-1831, married Loveagh Wauchop (pronounced "la–VAY Wahop (or Walkup)"), 1792–bef. 1840, daughter of Samuel Wauchop of Goland, Ardstraw Parish County Tyrone. (Samuel "Wahob" of Ardstraw is listed in the census of flax growers of Ireland 1796.)
The townland of Goland was located on the western border of Ardstraw Parish, about a mile from the town of Castlederg in Urney Parish. It consisted of about 144 acres of land and was later split in Golan Sproule, Golan Adams, and Golan Hunter.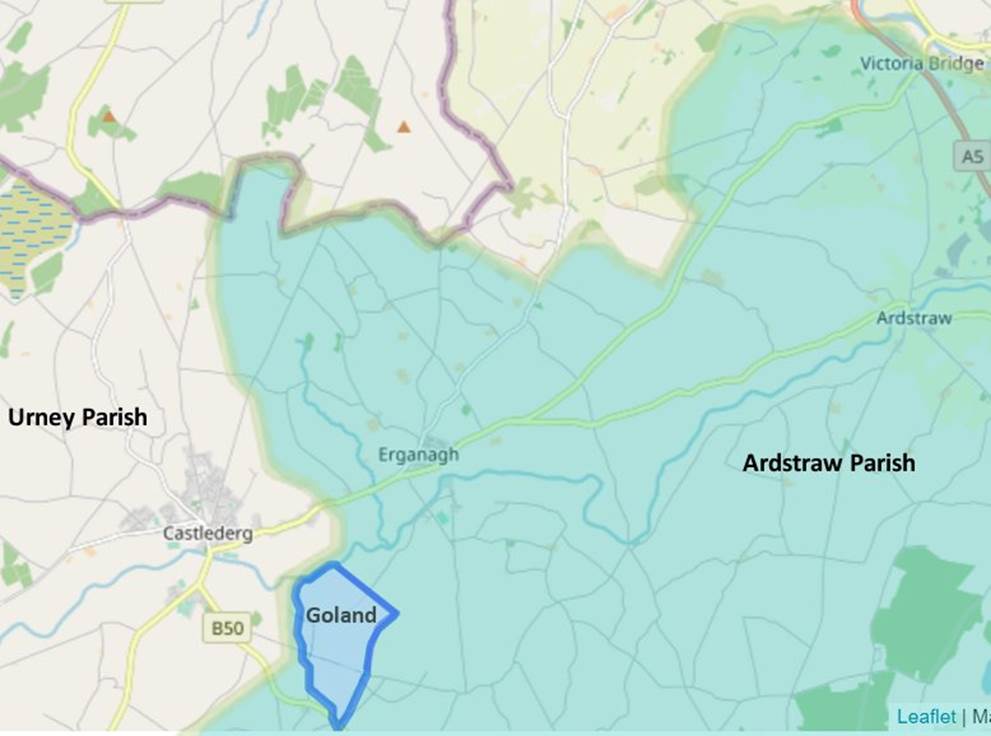 There is no know Irish record of the marriage of Andrew and Loveagh. Andrew may have also lived in Goland, but there are Ralstons in the close surrounding townlands also, especially Castlederg and vicinity.
Records from the early 1800s, show marriages for children of a David Ralston and a James Ralston who lived in Goland. It is possible these two men were brothers of Andrew Ralston, but, if not, very likely kin.
Andrew and Loveagh left Ireland in 1820, probably from the Port of Derry, through St. Johns, New Brunswick, then to Philadelphia, ariving October 9, 1820.
Family tradition tells that a violent storm caused the voyage to be much longer than expected and they spent the money they had with them to buy food on the ship except for $3.75. Also, that they had sent money ahead to a bank in the U. S. When they arrived in Philadelphia they found that bank had gone broke and they had no money to continue their journey. They had to stay in Pennsylvania and Andrew's oldest sons were born there. (No mention that a daughter was born between the boys.)
However, Andrew's oldest son, Robert, was born (per census and other records) in Tennessee September 18, 1821. That shows that Andrew and Loveage were NOT stranded in Pennsylvania and were able to continue their trip. The person that DID live in Pennsylvania for several years and who's oldest sons (by Mary Reid) were born there, was David Ralston.
It is my theory that the story about the storm and bank also was about David, since Andrew and Loveagh apparently had sufficient funds to continue their trip.
Manifest of the Schooner Horatio, 9 Oct 1820
Andrew and Loveagh came to Tennessee, by boat, down the Ohio and Cumberland Rivers, being met and assisted by Andrew's eldest uncle, Alexander Ralston.
Andrew rented a farm at Windrow, in Williamson County (now Rutherford) about 32 miles south of Nashville and about 8 miles west of where Alexander lived at the time. He lived there until he bought land on Highway 99 near Eagleville in the 1840s. Census records indicate that Loveagh died before 1840. It is assumed that Loveagh (and an unknown baby daughter) were buried on Andrew's property in the Carson–Ralston Cemetery where Andrew was buried, but since Loveagh died before 1840, it is possible she was buried elsewhere. However, The History of Versailles, Tenth District and Its People says that Andrew "acquired land in the Mt. Vernon area before 1831". If true, then Loveagh could have been buried in that cemetery. Additionally, the 1840 census for Andrew shows him living on the property where the cemetery is located.
On March 7, 1850, Andrew married Mary Ann (Polly) Woods 1821–1891. Andrew's eldest son, Robert was killed in 1857 while logging with oxen to rebuild Mt. Vernon Cumberland Presbyterian Church, near Eagleville, after it had been destroyed by fire.
The History of Versailles, Tenth District and Its People says the following, "George W. Scott married Mary E. Ralston whose father was Andrew Ralston, a native of Aberdeen, Scotland, migrated through Ireland to America and acquired land in the Mt. Vernon area before 1831."
Also, the death certificates of two of Andrew's children by Polly Woods, show Andrew's birth place as Scotland. These are all incorrect. Andrew's census records show his birth place as Ireland and his citizenship papers say he was a "native of the Kingdom of Ireland."
The Civil War found conditions bad in the area. Dr. Urban G. Owen, a Confederate Army doctor, wrote several letters to his wife during the war. One of these letters, March 17, 1863, mentions Andrew in describing conflicts with Union soldiers:
"Chesley William's wife [Chesley was a prominent citizen in Eagleville at the time] tried to keep them out of her smoke house, [but] they knocked her down choked her & nearly put her hip joint out of place. She is confined sick now from the effects. Old Andy Ralston's wife… knocked two of them down with a cedar poll."
Andrew died while the war still raged, on October 24, 1863, and was buried in the small cemetery located on his farm, now called the Carson–Ralston Cemetery, in Rutherford County, Tennessee.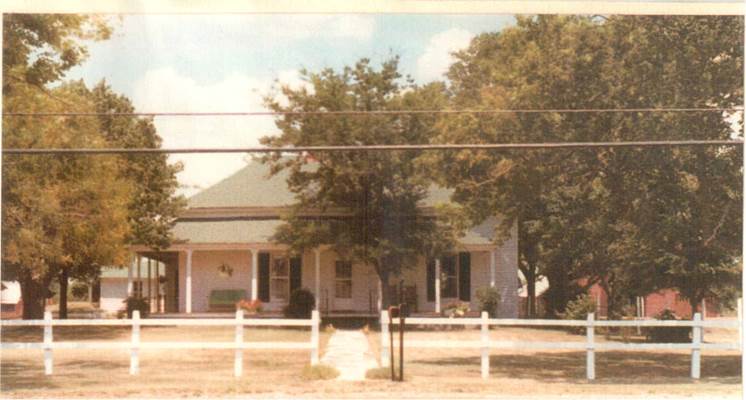 Andrew Ralston house–remodeled and enlarged. Photo 1980
Andrew Ralston's Will– Oct. 9, 1863
Descendants of Andrew and Loveagh:
1. Robert Ralston (Son of Andrew and Loveagh) (18 Sep 1821–1 Aug 1857) – Farmed in Williamson (now Rutherford) County. Killed while logging with oxen to rebuild Mt. Vernon C.P. Church after a fire.
m. 1845 Minerva O. Manire (1825–1888)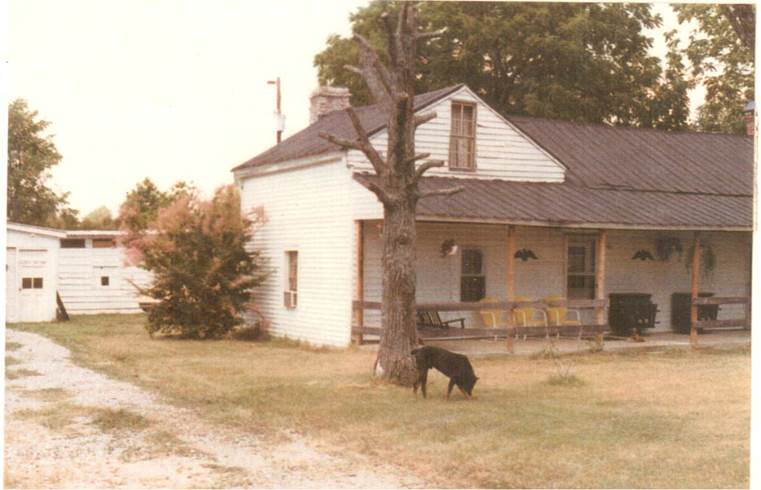 The left wing of this house is the Robert Ralston cabin. Photo 1980
a. William M (Billy) Ralston (1847–1926) farmed on Swamp Rd near Eagleville, Rutherford County, TN MyHeritage® DeepStory
William Ralston was the eldest child of Robert and Minerva Manire Ralston. He was only ten years old at the time of his father's death. He married Seith Nannie Hendrix, daughter of Thomas Hendrix and Mary May, around 1870. He was a prosperous farmer and accumulated several tracts of land in the Eagleville area. He built the house known as the Billy Ralston home place and lived there until his death. After Nannie' s death in 1893 Billy married her first cousin, Barbara Ann Gregory. Barbara Ann died in 1911 of cancer. In 1917 he married her widowed sister, Alice Gregory Stephens. Squire Billy, as he was then known, was reputed to be a kind-hearted man forever willing to lend money to his friends and neighbors. Such kindness led to his financial demise. He, along with several other local businessmen, co-signed a note to help a friend obtain financing to operate a tile factory (Billy had previously been one of the owners of this factory). [The land east Eagleville was swampy. The tile from this factory helped drain the farm land.]
The man defaulted on the note, and the other co-signers, in order to avoid a financial loss, transferred their property to their spouses. Billy declined to follow suit, however, partly because he hoped to be able to pay off his share of the obligation and also because he was afraid of such a transaction. While Barbara Ann Gregory was known as a kind, gentle person, her sister Alice lacked this distinction. Billy feared that if he transferred his property to Alice, she would in turn deed it to her son by a former marriage, thereby leaving his children without a legacy. Essentially because of this outstanding debt, all of Billy's property was sold at his death. Neighbors, understanding and sympathizing with Billy's plight, declined to bid against his children. Hence, they were able to buy most of his real and personal property. Billy was a member of the Odd Fellows Lodge No. 17 and of the Mt. Vernon C. P. Church. He served as a magistrate representing the Eighth District of Rutherford County for a number of years.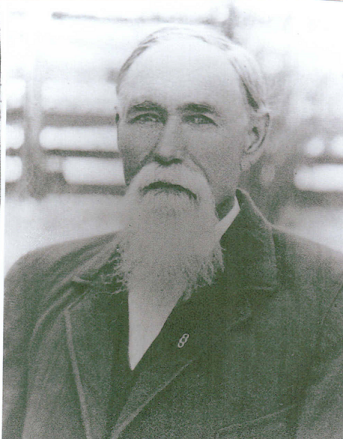 m1. 1871, Rutherford County, Seith Nannie Rebeka Hendrix (1852–1893) (Nannie and their two eldest children died of pneumonia within an eleven-day period in April 1893)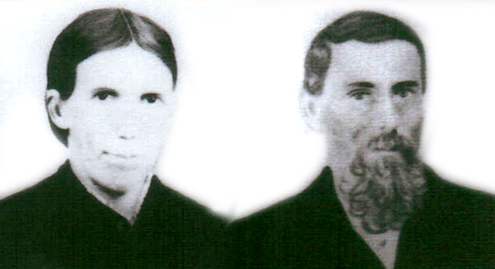 Nannie and Billy
i. Willie Rebecca Ralston (1872–1893)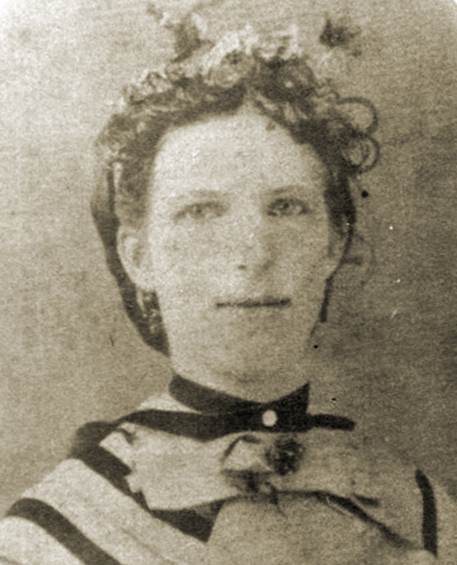 Willie Beck
ii. Josephus Augusta Ralston (1874–1893)
iii. John Robert Ralston (1875–1973) m. 1896 Whre Rice Gregory (1872–1936)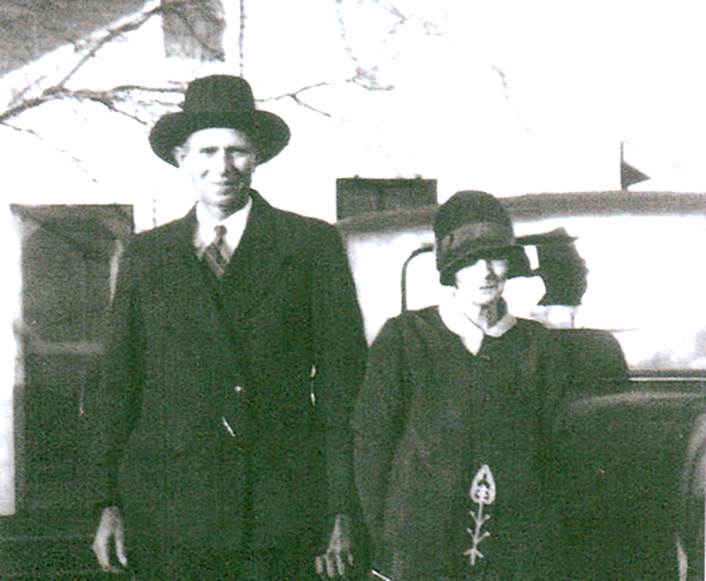 John Bob and Whre
John Bob worked as a carpenter in Fort Worth, Texas, and later moved to Memphis.
1. William T. (Willie) Ralston (1898–1979) [Local City School Teacher, Knoxville]
m Jimmie Lou Stephens (1905–1974)
a. William Stephens Ralston (1934–) [Electrical Engineer NASA Marshall Space Flight Center, Huntsville]
2. Floyd Alexander Ralston (1900–1979) [Salesman, Nashville]
3. John Richard Ralston (1902–1983) [Public School Teacher, Memphis]
iv. David Wayhat Ralston (1878–1966) [Aunt Sue Taylor asked that he be named Wayhat for an Indian who helped them in Texas]
m1. Mary Francis (Mamie) Turner (1898–1929) MyHeritage® DeepStory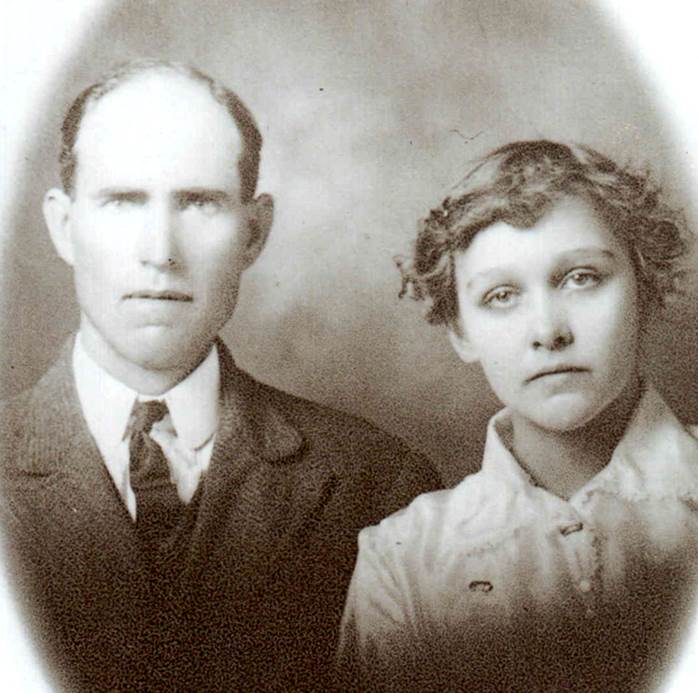 Wayhat and Mamie
1. William Andrew Ralston (1918–2000) [Farmer Eagleville]
2. David Holt Ralston (1919–2001) [Farmer Eagleville]
3. Eura Myrtle Ralston (1921–2011)
4. Thomas Robert Ralston (1923–2010) [Farmer Eagleville]
5. Edward Josephus Ralston (1925–1926)
6. John Lee Ralston (1928–)
In the 1928-1929 winter both Wayhat and Mamie were very ill. Mamie died and Wayhat was left with five children. His sister, Myrtle Owen, offered to take the baby, John, and raise him. Tolbert and Alice Ralston wanted Myrtle, etc. Wayhat's brother, Fender, felt strongly that the children should not be separated and grow up away from their father. Prior to this, Emma Ralston, after her divorce from Jim Rutledge, had returned to her father's home. Her father, Joe, had died and his farm was to be sold to settle the estate. Emma called Wayhat, and, since she needed a home, offered to come and help him with his children. Wayhat accepted the offer but felt it would be proper only if they married.
m2. Emley Kathern (Emma) Ralston (1881–1945)
v. Thomas Crawford Ralston (1881–1956) m. 1907, Rutherford County, TN, Elsie Rosetta Shoemaker (1887–1972)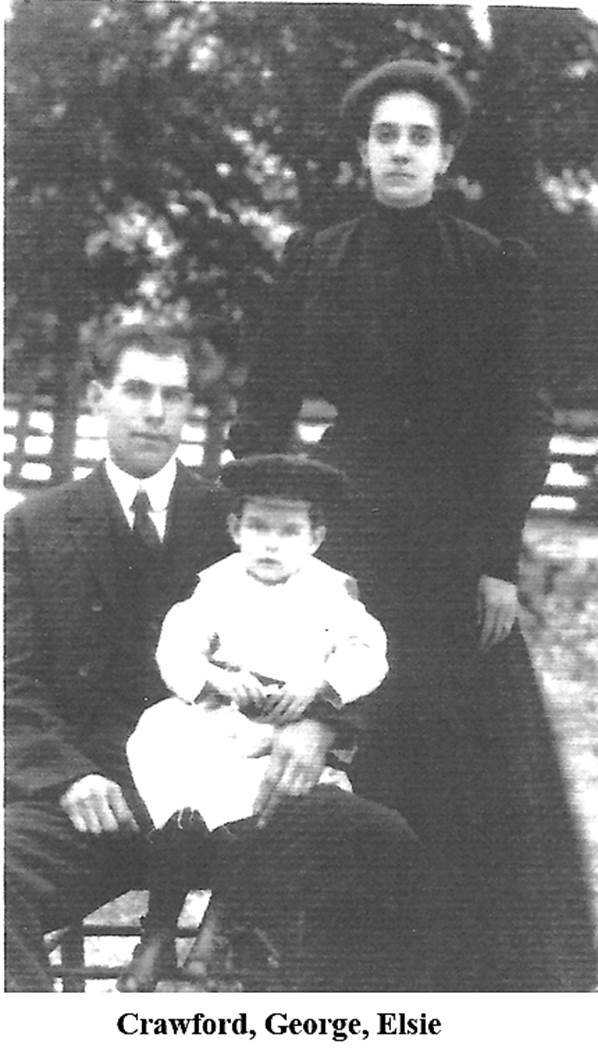 1. George William Ralston (1908–1977)
2. Olive Myrtle Ralston (1912–1991)
3. Virginia Elaine Ralston (1914–1990)
4. Melba Collisto Ralston (1925–2011)
vi. Amacy Lee Ralston (1882–1963) m. 1911, Florida, Edna Earl (Dollie) Blanton (1882–1969) Macy went to Florida and worked at an orange grove, picking oranges. There he met the grove owner's daughter, Dollie.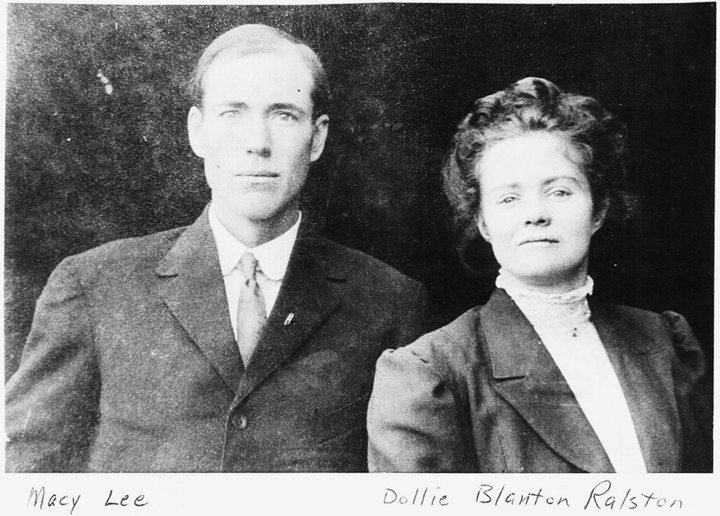 1. Murray Lee Ralston (1912–1959)
2. Clifton Virginia Ralston (1913–2004)
3. Audry Earl Ralston (1915–1988)
4. Maurice Elbert Ralston (1918–1921)
vii. James Dubrix Ralston (1885–1975) m. Carrie Mae Simms (1887–1971)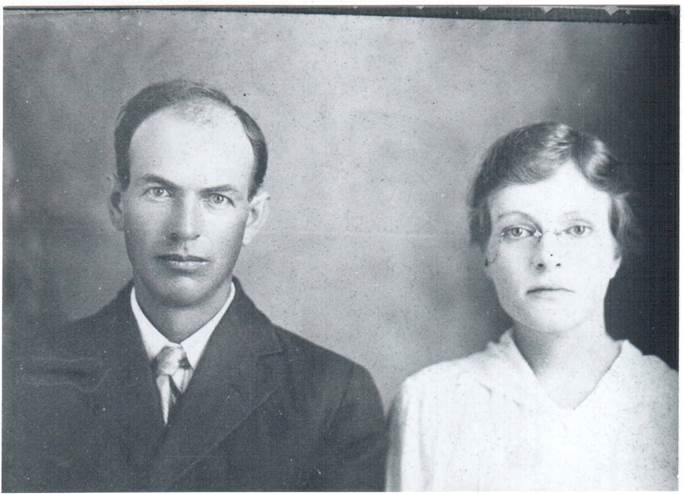 Jim Dub and Carrie
1. William Andrew Ralston (1908–1909)
2. James Ralston (1911–1971)
3. Richard N Ralston (1913–1972)
4. Charles Ralston (1917–1979)
viii. Minnie Myrtle Ralston (1887–1948) m. James Bunyan Owen (1879–1949)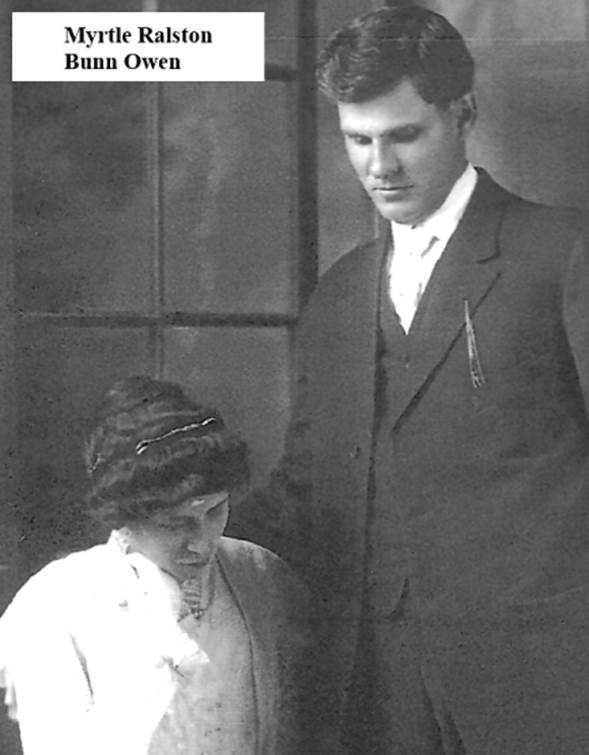 1. James Bunyan Owen Jr (1915–2001)
2. William Marshall Owen (1918–1970)
3. Ralston Owen (1923–1923)
4. Malinda Myrtle Owen (1926–2015)
ix. Charlie Nash Ralston (1890–1975) never married
x. Andrew Fender Ralston (1891–1977) m. 1945 Lena Jordan (1901–1983)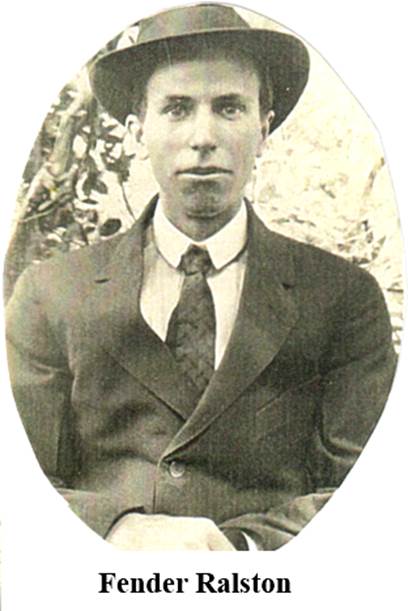 m2. 1894 Barbara Ann Gregory (1861–1911)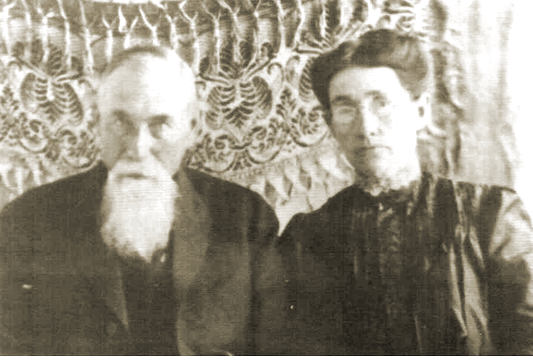 Billy and Barbara
xi. Nanny Lois Ralston (1895–1986) m. Raymond Eugene Collins (1896–1971) Lois' wedding was remembered for many years. The church (Mt. Vernon) was decorated with flowers (this had not been done previously) and Lois asked Rev. Holt to change the traditional ceremony. She refused to say that she would obey Raymond Collins. Love, yes, obey, not necessarily. When asked about the expense of her "big" wedding, Lois laughed and said that she had sent Fender and Charlie to the neighbors' houses to gather flowers from their yards. There was no expense.
1. Eugene Newton Collins (1927–2004)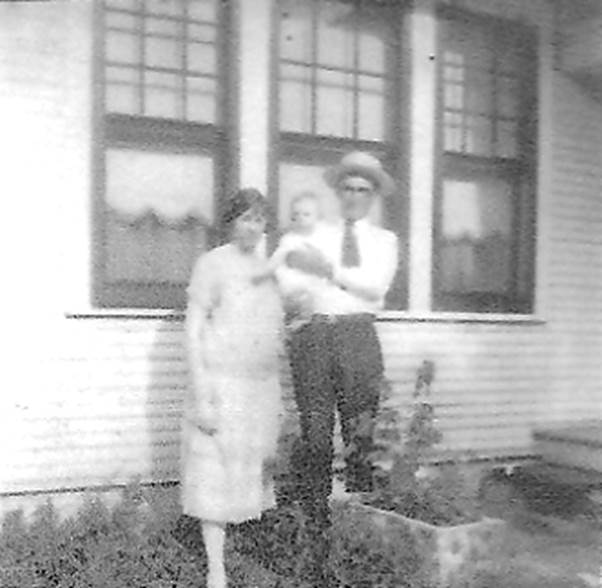 Lois, Gene, Raymond
xii. Cora Virginia Ralston (1898–1977) m. 1922 Albert Mitchell Williams (1898–1973)
1. James W Williams (1932–2018)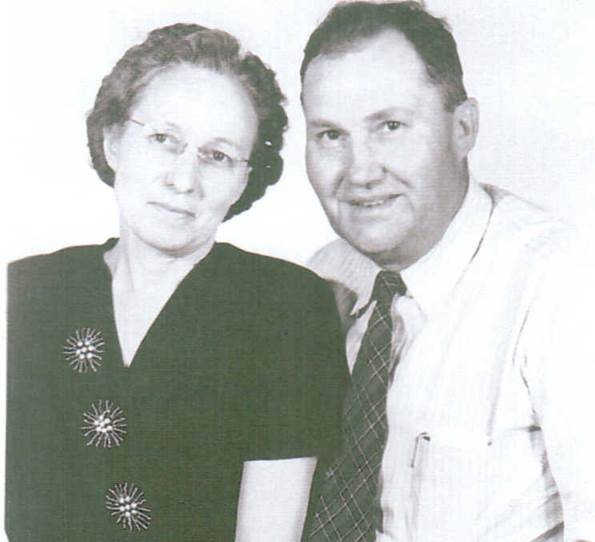 Cora & Albert 1946
m3. Alice Gregory (1859–1929) (Alice was a sister to Barbara. Another sister, Whre Gregory, married William's son, John Robert.)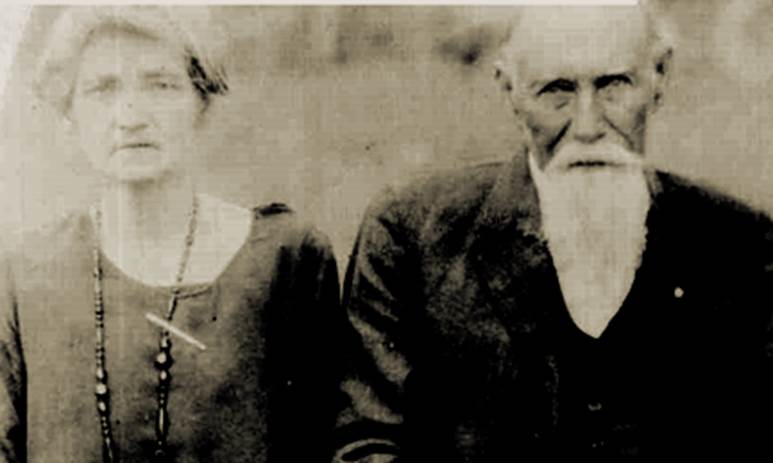 Alice and Billy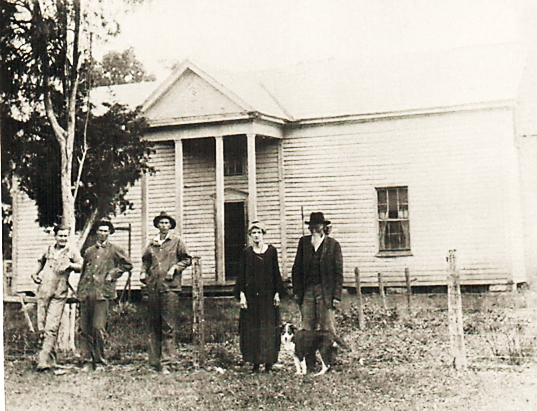 Searcy, Charlie, Fender, Alice, William Ralston
In front of William's house
(Searcy was Billy's great-nephew, son of David Crockett Ralston)
b. Josephus (Joe) Ralston (1849–1929) m. 1876, Rutherford County, Martha M Reid (1852–1895) farmed at the David Lemuel Manire place, Hwy 99, where Minerva Manire Ralston Hays lived in Rutherford County (Martha was Joe's cousin, daughter of his great-aunt, Catherine who married Joe Reid.)
i. Eliza Florence Ralston (1876–1952) m. 1897 John William (Bill) McClaran (1877–1969)
1. Aubrey D McClaran (1898–1968)
2. Nora Meaky McClaran (1899–1991)
3. Marvin J McClaran (1901–1979)
4. William Darrel McClaran (1903–1978)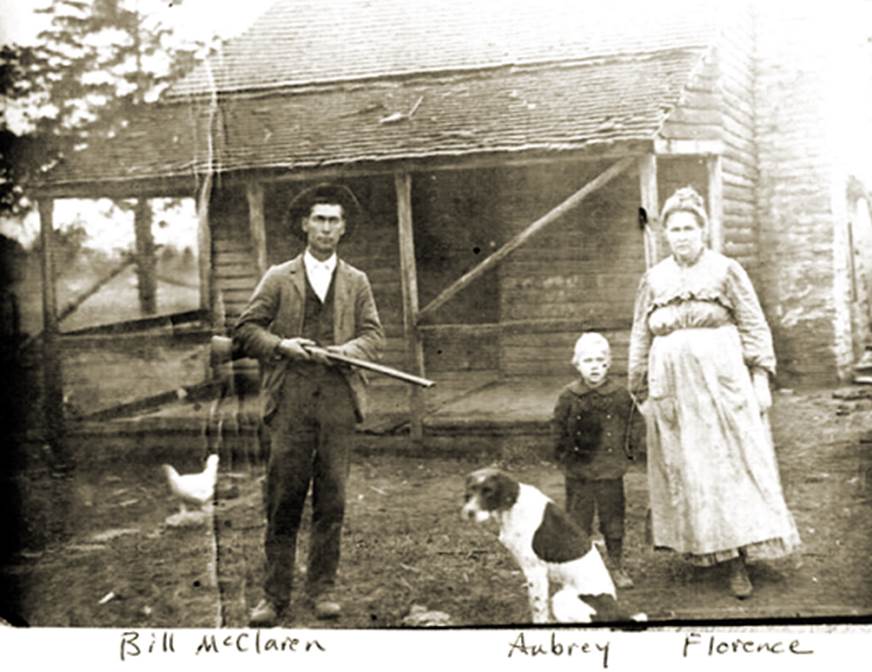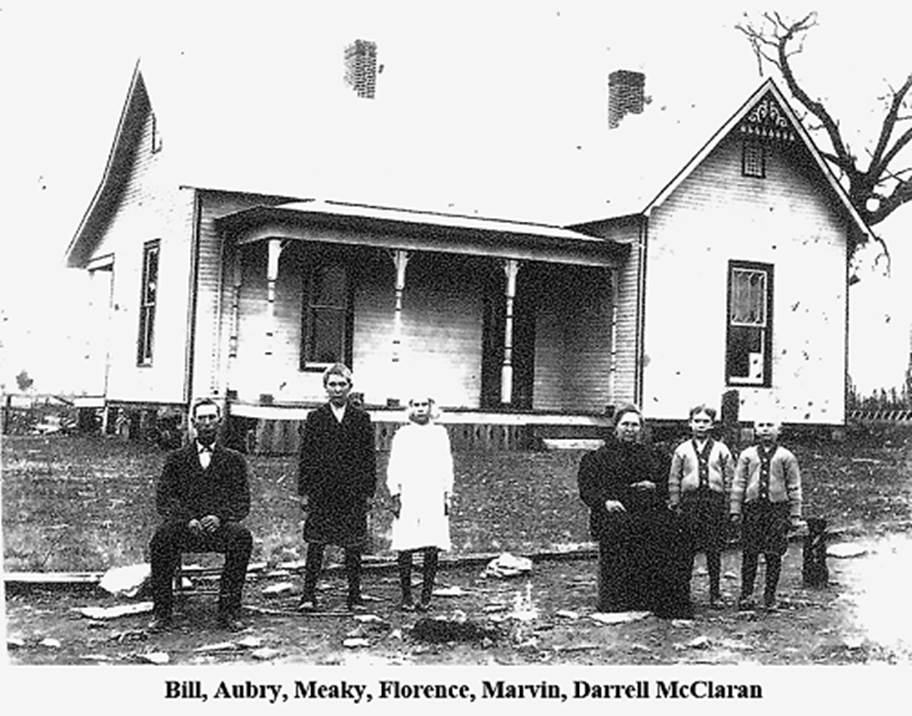 ii. William Joseph Ralston (1879–1959) m. Minnie Mae Dyer (1878–1959) no children
iii. Emley Kathern (Emma) Ralston (1881–1945) m1. Jim Rutledge (1880–1946), m2. David Wayhat Ralston (1878–1966) no children
iv. Mary Octavia (Molly) Ralston (1884–1968) m. 1908 Aubrey Armett Westbrook (1877–1951)
1. infant boy Westbrook (1909–1909)
2. Clairsie Landis Westbrook (1910–1994)
3. Oleda Myrtle Westbrook (1912–1921)
4. infant girl Westbrook (1915–1915)
5. Armett Hampton Westbrooks (1916–1989)
v. David Edward (Eddie D) Ralston (1886–1960) [After getting his cousin, Vera Scott, pregnant around 1910, Eddie D. left Tennessee for Texas. There he married Carman Clifford Morgan (1895–1945) in 1912 and returned to Tennessee about three years later.]
m1. 1910 (unofficial) Vera C Scott (1891–1966) see Vera Scott below
m2. 1912, Denton County, TX, Carman Clifford Morgan (1895–1945)
1. Mary Irene Ralston (1913–2000)
2. Nora Mai Ralston (1919–2007)
3. Myrtle Josephine Ralston (1924–2017)
4. Betty Delorise Ralston (1931–)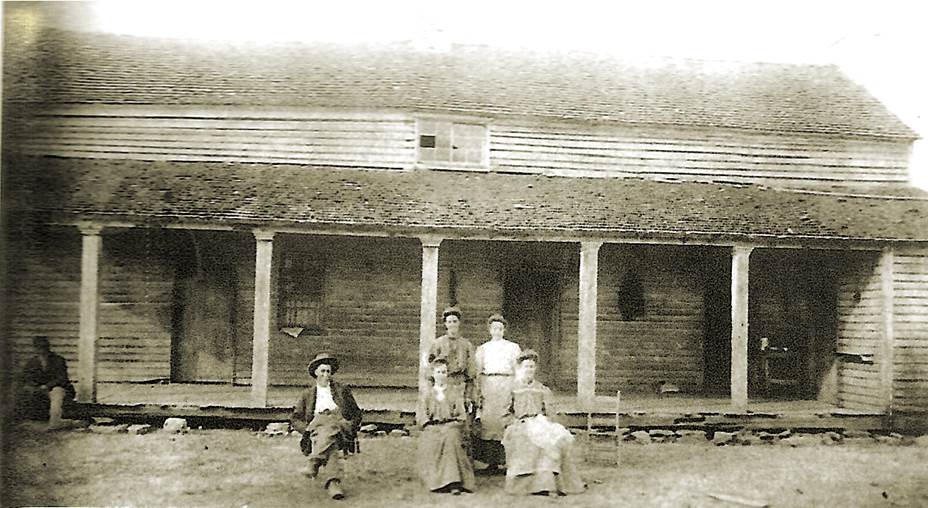 (Elisha Reid far left), Joe Ralston, Emma, Martha, Florence, Molly
House built by Joe's grandfather, Lemuel Manire.
c. David Jackson Ralston (1851–1891) m. 1873, Rutherford County, Dubrix Ruth Hendrix (1854–1910) (Dubrix was a sister of Nannie Hendrix that married William Ralston.) farmed in Rutherford County
i. Thomas Robert Ralston (1873–1956) m. Annie Lou Morgan (1888–1952)
1. Robbye Morgan Ralston (1918–2005)
2. Louise Jamnie Ralston (1922–1991)
ii. David Crockett Ralston (1875–1950) m. 1895 Effie Thomas Love (1877–1959)
1. Ernest Lee Ralston (1895–1901)
2. E.M. Ralston (1896–1899)
3. Buford Clyde Ralston (1899–1977)
4. Searcy Lee Ralston (1901–1961)
5. Lula Mae Ralston (1904–1986)
6. Clifford James Ralston (1906–1986)
7. Howard Thomas Ralston (1909–1972)
8. Maggie Bell Ralston (1912–1956)
9. Robert Hollis Ralston (1916–2000)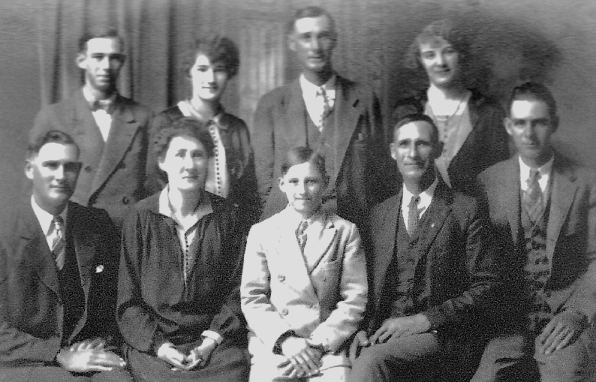 Front: Searcy, Effie, Robert, Crockett, Howard
Back: Clifford, Maggie, Buford, Lula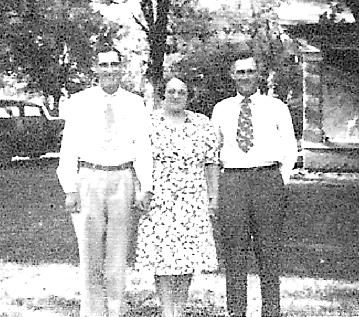 Searcy and wife, Lizzie Bell (Elrod), and Robert
iii. Joseph Lafayett Ralston (1878–1901) never married
iv. William Augusta Ralston (1880–1914) m. 1904 Lillie Lee Burns (1885–1953)
1. Julia Pearl Ralston (1905–1939)
2. Murphy William Ralston (1910–1993)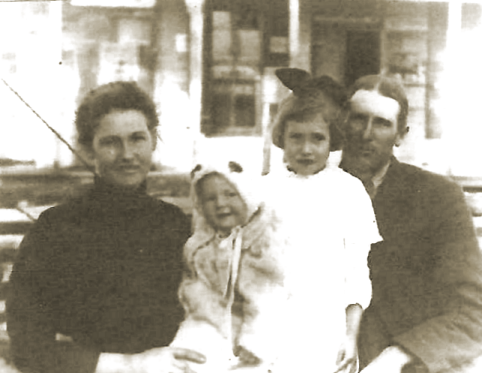 Lillie, Murphy, Pearl, Willie
v. Minerva Nash Ralston (1882–1956) m. 1900 Robert Washington Reid (1880–1970)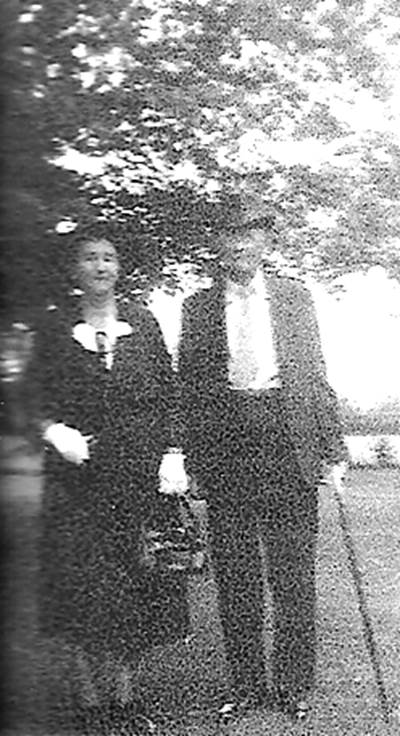 Nash and Robert
1. Eron Clyde Reid (1902–1983)
2. Ethel Reid (1903–1911)
3. Ruth Myrtle Reid (1906–1996)
4. Lillie May Reid (1909–1965)
5. Harvey Crockett Reid (1911–1994)
6. Jasper Edmond (Ed) Reid (1914–1996)
7. Tabitha Flora Reid (1916–1970)
8. William Alex Reid (1919–1988)
9. Thomas Ralston Reid (1921–1957)
vi. Grover Cleveland Ralston (1884–1969) m. Olive May Shoemaker (1891–1989)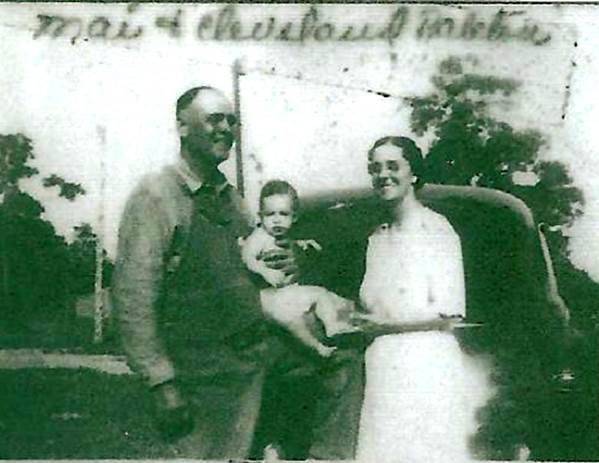 1. Maggie Modena Ralston (1909–1989)
2. Alvin Jackson Ralston (1911–1948)
3. Frasier Ruby Ralston (1914–1930)
4. Rosie Christine Ralston (1917–2012)
5. Grover Cleveland Ralston Jr (1923–1963)
6. Marion Leo Ralston (1925–2014)
vii. Oliver Tolbert Ralston (1887–1954) m. Alice Brown (1899–1962) no children
viii. Alex Elisha (Alec) Ralston (1889–1976) m. 1914 Mary Susie Cothran (1896–1981)
1. Thelma Jane Ralston (1915–1999)
2. Alex Eugene Ralston (1917–1985)
3. Herman Macie Ralston (1921–1939)
d. Susannah Loveagh Ralston (1853–1878) m. 1871 Elisha Crawford Reid (1844–1921)
i. Mary Tennessee (Tennie) Reid (1872–1948) m. 1893 Robert Long (1869–1947)
1. Charles Clayton Long (1895–1955)
ii. Octava Lassaphene (Lassie) Reid (1875–1960)
m1. Albert Cooper (1868–1902)
1. Oliver Stephenson Cooper (1894–1944)
2. Mary Lytle Cooper (1901–1915)
m2. Wilburn R Garrett (1869–1933)
3. Wilburn Ernest Garrett (1909–1987)
4. Nonnie Modena Garrett (1912–1967)
e. Mary Catherine (Kitty) Ralston (1856–1925) m. 1871 Elisha Crawford Reid (1844–1921) (after the death of her sister, Susannah Loveagh, Kitty married her widower) farmed in Bedford County, TN
i. Susanna Washington Reid (1879–1947) m. 1901 John Edward Osteen (1879–1959)
1. Leslie Reid Osteen (1902–1977)
2. Clifton Herman Osteen (1904–1984)
3. Theodore Francis Osteen (1906–1992)
4. John Richard Osteen (1907–1989)
5. Paul Newton Osteen (1909–1944)
6. Margaret Evelyn Osteen (1915–2006)
7. Prentice Neal Osteen (1919–2016)
ii. Dora Jane Reid (1881–1967) m. 1903 George Landis Wortham (1875–1936)
1. George Landis Wortham Jr (1907–1998)
2. Herbert Patterson Wortham (1909–1984)
3. Charles Bristol Wortham (1911–1958)
iii. Lillie Pearl Reid (1884–1885)
iv. Alta Rebecca Reid (1886–1977) m. 1910 William Oscar Eads (1886–1968) no children
v. Robert Crawford Reid (1888–1954) m. 1911 Margaret Eads (1891–1984) (Margaret was sister of William Oscar Eads)
1. Lewis Winston Reid (1915–1976)
2. Dorothy Rebecca Reid (1917–1973)
3. Mary Elwyn Reid (1919–2021)
4. Gerald Crawford Reid (1923–)
5. Clarice P Reid (1924–)
6. Emma Jean Reid (1927–2015)
7. Robert Marion Reid (1930–2003)
8. William E Reid (1933–)
vi. Emma Lee Reid (1890–1981) m. 1911 Jason Landis Dickens (1890–1963)
1. Alta Beatrice Dickens (1912–2008)
2. Edith Inez Dickens (1917–2005)
3. Kayrene L Dickens (1923–)
vii. Margaret Modena Reid (1891–1990) m. 1918 Benjamin Amos Green (1895–)
1. William Crawford Green (1919–1985)
2. Benjamin Harold Green (1922–1969)
3. Betty Ruth Green (1931–)
viii. William Arthur Reid (1896–1930) never married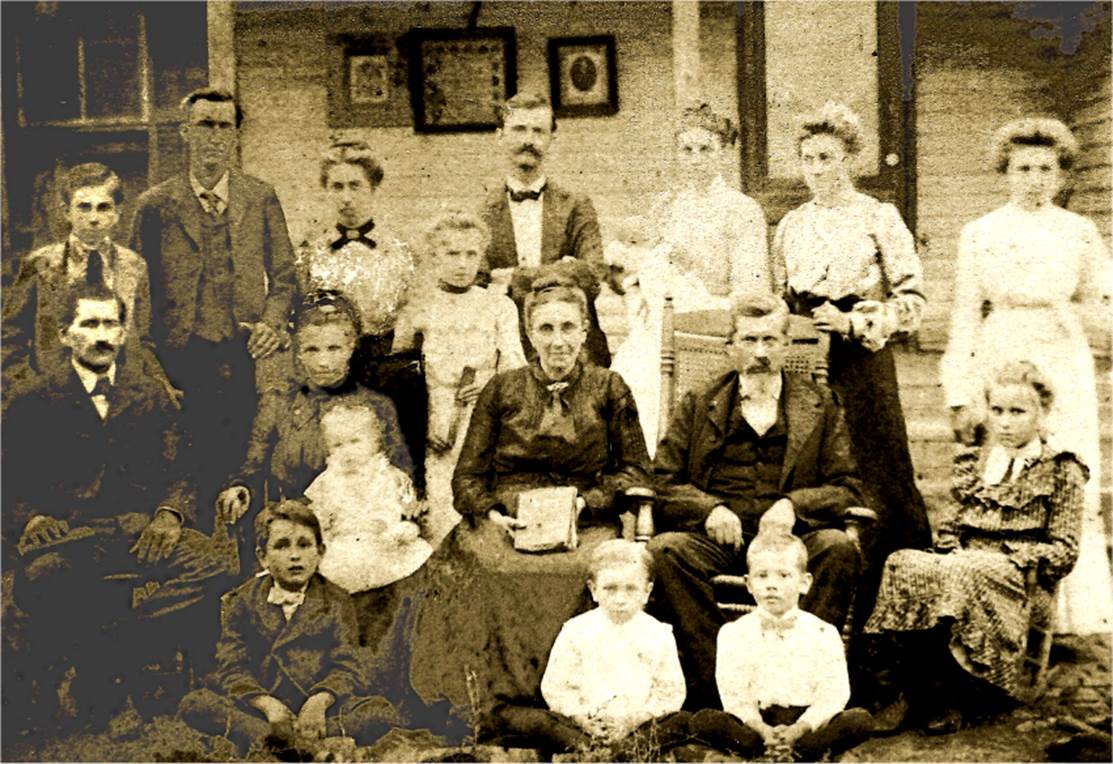 (NOTE: The Reid family labeled this photo as c 1901. The baby Susannah is holding, Leslie, was born June 2, 1902, so this photo was probably from the summer of 1902.)
2. Catherine Ralston (Daughter of Andrew and Loveagh) (1824–1893) m. 1850, Josiah Green (Joe) Reid (1827–1902). Catherine married Joe just a few months before her father, Andrew, was remarried to Mary Ann (Polly) Woods. It is thought that Polly and Joe G. were related. Farmed in Rutherford County.
a. Martha Reid (1852–1895) m. Josephus Ralston (1849–1929), son of Robert
See Josephus Ralston above for children
b. Elizabeth Reid (1855–1858) unmarried
c. Mary (Mollie) Reid (1858–1884) unmarried
d. Elvira (Vide) Reid (1860–1938) m 1894 Richard O (Dick) Morgan (1856–1943) farmed in Rutherford County, TN
i. Martha Catherine Morgan (1896–1900)
ii. Mattie Erie Morgan (1898–1972) m. Shelah Phillips (1897–1935)
1. Dorris F. Phillips (1928–)
2. Robert S. Phillips (1930–)
iii. Eura Morgan (1901–1983) never married
iv. Ollie Lee Morgan (1903–1986) never married
v. Richard Carter Morgan (1903–1903)
3. David Ralston (Son of Andrew and Loveagh) (1830–1913) m. 1863 Mary S. Sutton (1834–1912) farmed in Rutherford County, TN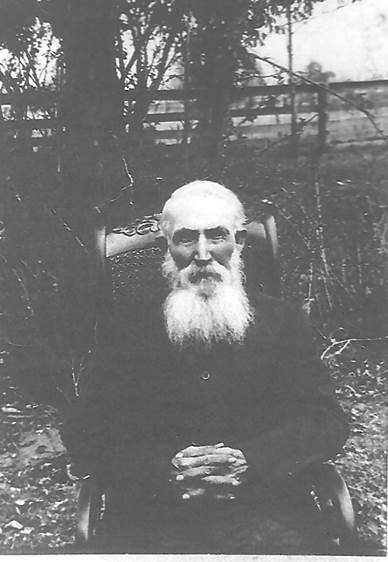 Story – David's "death" by lightning in 1907
a. Henry Ralston (d. age 2)
b. Jonas Ralston (d. age 16)
c. Charlotte (Lottie) Loveagh Ralston (1870–1953) m. 1915, Marshall County, TN, Philip M. Fleming (1860–1933) no children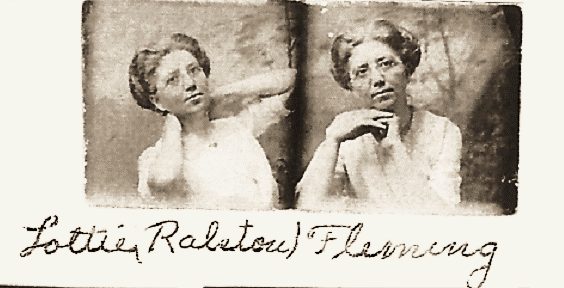 d. Mary Alice Ralston (1874–1916) never married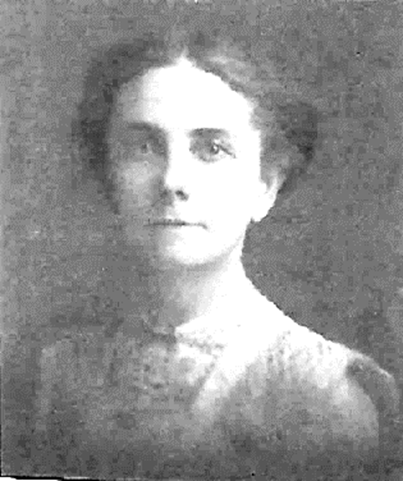 Descendants of Andrew and Polly:
4. James Andrew (Jimmy) Ralston (Son of Andrew and Mary Ann) (1851–1937) m. Mary C. (Mollie) Burns (1856–1923) farmed in Rutherford and Marshall Counties, TN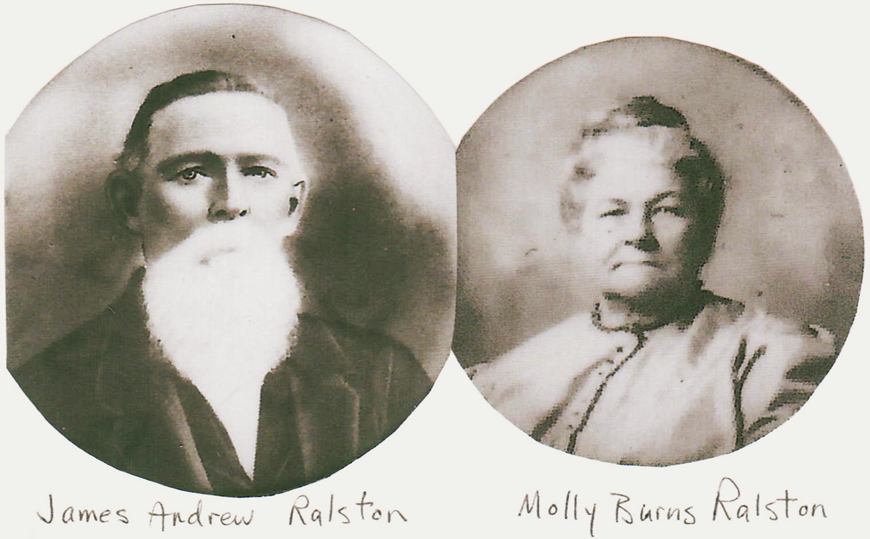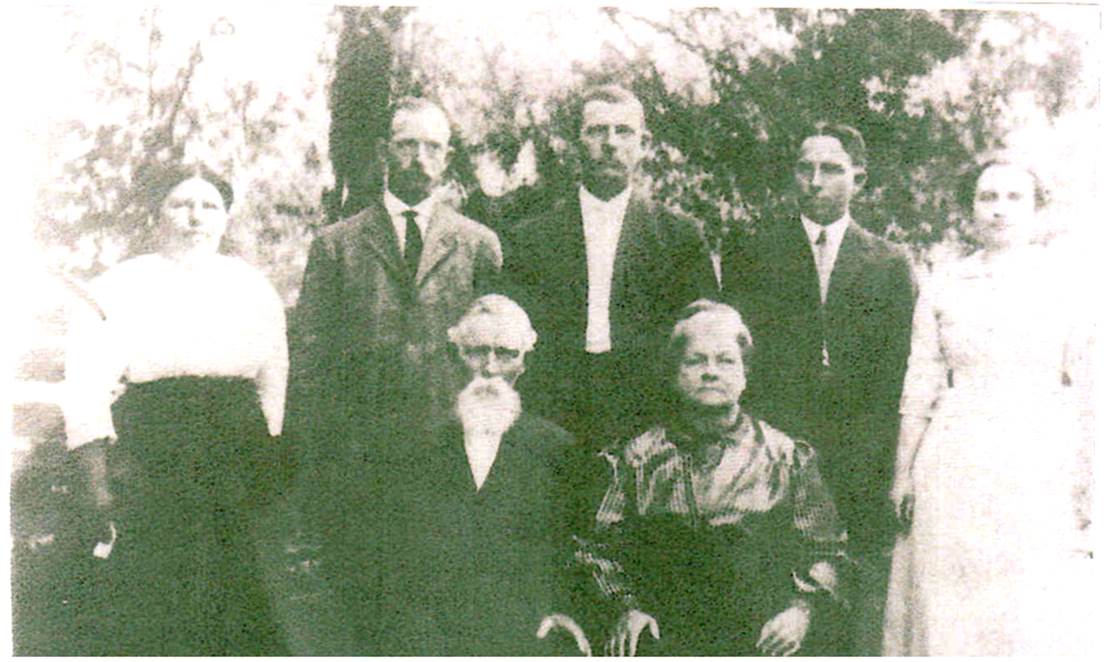 back: Annie, Ivey, Monroe, Alonzo, Aurora
front: James, Molly
a. Anna F. (Annie) Ralston (1875–1918) m. 1907, Rutherford County, Paul P. Smith (1865–1940) no children, farmed in Bedford County, TN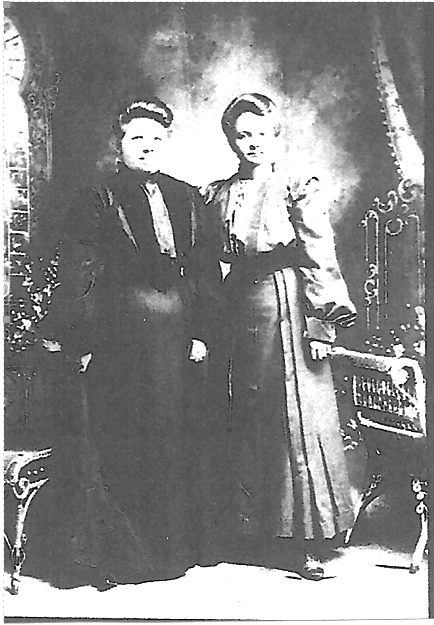 Annie and Aurora
b. William Ivey Ralston (1876–1957) farmed in Rutherford County, TN
m1. 1898, Rutherford County, TN, Lillie Irene Harris (1875–1918)
i. Mary Marcella Ralston (1900–1988) m. 1934 Leonard M Holden (1902–) Leonard was widower of sister Willie Irene
1. Wilma Holden (1938–)
2. Harry L Holden (1939–)
ii. Willie Irene Ralston (1902–1932) m. Leonard M Holden (1902–)
1. William Thomas Holden (1925–)
2. (Sgt) John Mitchell Holden (1925–2004)
3. Charles Holden (1929–)
4. David Holden (1932–)
iii. Jenny Myrtle Ralston (1905–1989)
m1. Johnny Oliver Bowen (1902–1949)
1. Virginia Bowen (1932–2004)
m2. Edward S White (1906–1974)
iv. Ester Pauline Ralston (1908–1991) m. Edgar Lee Price (1905–1982)
1. Ruby Jewell Price (1927–)
v. Ruby Ivie Ralston (1912–1991) m. Clyde M Gordon (1902–1981)
1. Joyce Gordon (1937–)
2. Robert P Gordon (1939–)
m2. 1919 Dora Lamb 1872–1945
c. James Alonzo Ralston (1878–1947) m. 1899, Rutherford County, TN, Mary Magdaline Rutledge (1882–1958) farmed in Bedford County, later managed a lunch wagon in Davidson County, TN
i. Susie Ovella Ralston (1901–1966)
m1. Zachariah Andrew Jackson Jr (1899–1925)
1. Margaret Jackson (1923–)
2. Ruby Dorris Jackson (1924–2001)
m2. Frank O Wood (1904–1966)
ii. Thomas Aaron Ralston (1904–1983) m. Mary Walker Carlton (1907–1992)
1. William Aaron Ralston (1929–)
2. Betty Jo Ralston (1934–1950) killed in auto accident
iii. Fannie Mai Ralston (1906–1998) m. Hume Jewell Uselton (1907–1981)
1. Jeweldene Uselton (1930–)
2. Mai Lois Uselton (1934–)
iv. William Grady Ralston (1909–1972) m. Ida Virginia Mosher (1913–)
1. James Thomas Ralston (1932–2011)
2. Dorothy Ann Ralston (1934–)
3. Robert Jewell Ralston (1944–2013)
d. Andrew Monroe Ralston (1879–1943) m. 1902, Rutherford County, TN, Fannie Taylor (1884–1967) farmed in Rutherford and Marshall Counties, TN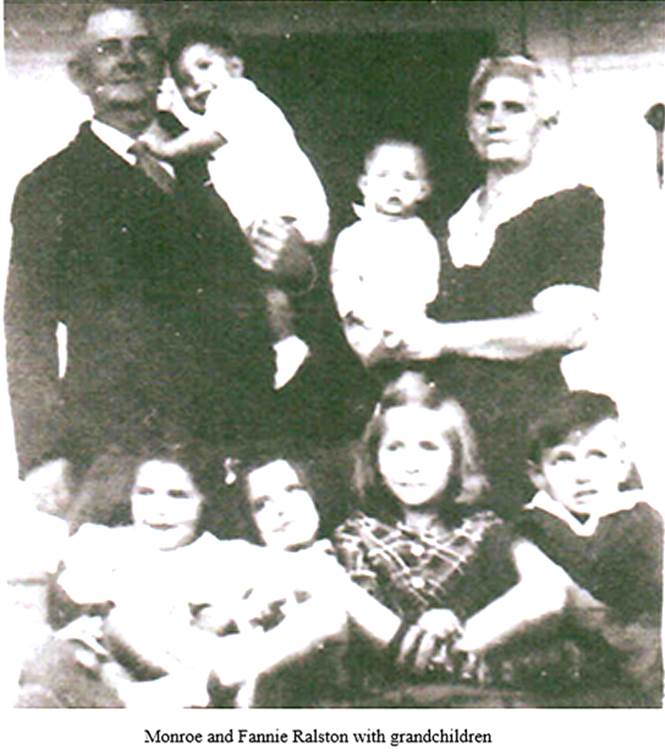 i. Jimmy Lee Ralston (1904–1976) m. Edwinna Mae Jones (1913–1967)
1. Alliene F Ralston (1932–)
2. Wenna Ralston ()
3. Lois Ralston ()
4. Margaret Ralston ()
ii. (Rev) William Robert Ralston (1907–1969) m. Dola McCullough (1901–1969)
1. Bobbie Jean Ralston (1934–)
2. George Andrew Ralston (1936–)
3. Mary Frances Ralston (1943–1943)
iii. Mary Matilda Ralston (1910–1996) m. Ike L. Davis (1910–1944)
1. Carolyn Davis (1941–)
iv. Maggie Frances Ralston (1914–2001) m. William Harland Richards (1904–1959)
1. Lela Jane Richards (1936–1984)
2. Varvara Ann Richards (1938–)
3. George Ralston Richards (1941–)
4. Zara Beryl Richards (1942–)
v. Monroe Millard (Doc) Ralston (1916–1947) killed in motorcycle accident, never married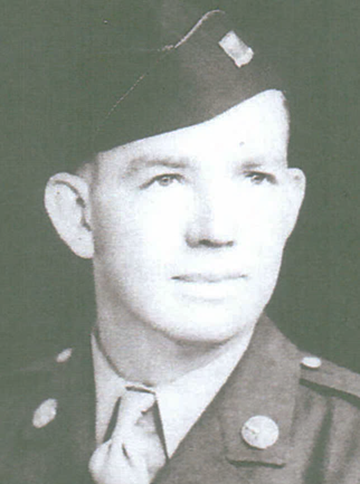 Doc
vi. Annie Jane Ralston (1918–1918)
vii. Ivie Elizabeth Ralston (1922–2017) m. John Fonzie Cromer (1923–1999)
1. John Ralston Cromer (1948–)
2. Janet Cromer ()
3. Joe Cromer ()
viii. Sammy White Ralston (1928–) m. Margaret Hazel Dalton (1926–)
1. Linda Faye Ralston (1949–)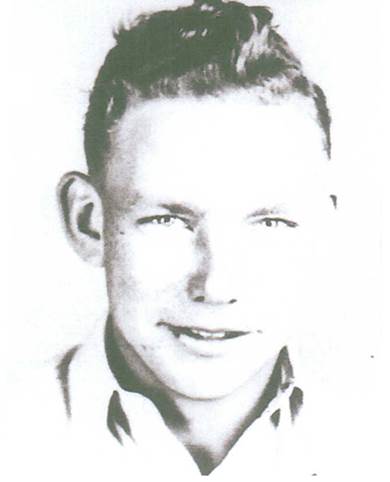 Sam
e. Aurora Ethel Ralston (1889–1972) m. 1913 Milton Thomas Powell (1879–1958) farmed in Chapel Hill, Marshall County, TN
i. James Milton Powell (1914–2005) m. Dorothy E Forsht (1914–2008) (See story here)
1. James Milton Powell Jr (1943–)
2. Joseph Powell ()
3. John Powell ()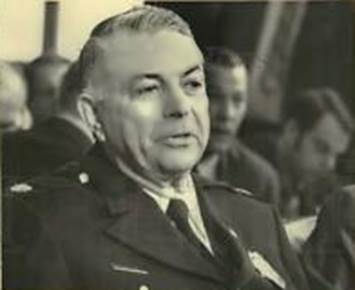 James Powell
ii. Mary Elizabeth Powell (1915–1993) m. William H. Cheek (1911–1975) no children
iii. Ruth Ann Powell (1920–2010) m. Gordon Cecil Mitchell (1911–1994)
1. Robert W. Mitchell, M.D. (1943–)
iv. Clarence Andrew Powell (1924–2002) m. Nancy Elizabeth Maxwell (1928–)
1. Nanette Powell (1952–)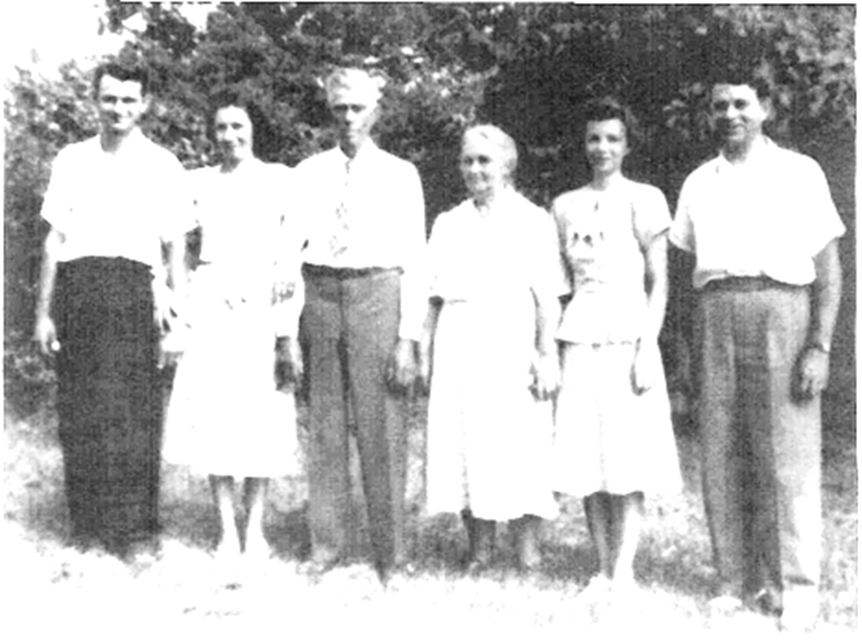 Powells mid 1940s
James, Mary, Milton, Aurora, Ruth, Clarence
5. Mary Elizabeth Ralston (Daughter of Andrew and Mary Ann) (1856–1935) m. 1896, Rutherford County, TN, George Washington Scott (1854–1919) George was orphaned at age 12. He came to Eagleville to live with and work for the Scales family who operated a general store – farmed in Rutherford County, TN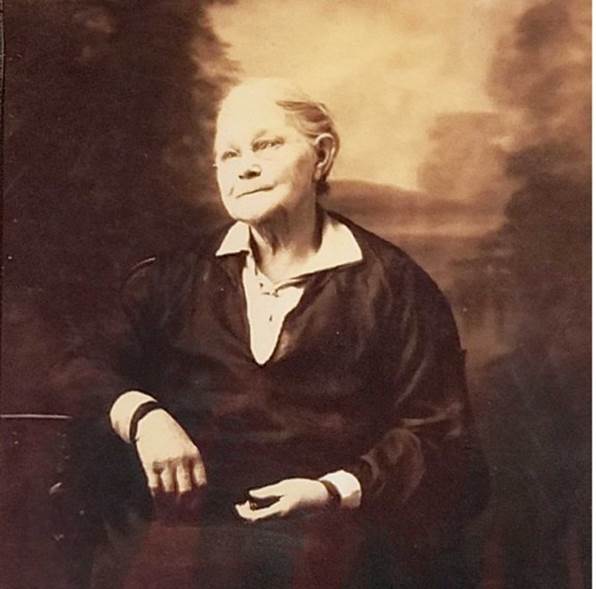 a. Mary Elve Scott (1877–1939) m. Charlie Neeley (1873–1955) no children. Mary worked in a shirt factory, Charlie in a coffee factory in Davidson County, TN
b. Andrew Alphanso (Buck) Scott (1878–1955) m. 1899 Kizzie Evelyn Owen (1883–1973) mail carrier in Eagleville and Rockvale, operated a store at Concord (1909-1915), Rutherford County, TN
i. Hilda Estelle Scott (1900–1993) m. Thomas Morgan Gregory (1892–1966)
1. Evelyn Gregory (1922–2015)
2. Carroll Gregory (1931–)
ii. Samuel Howard Scott (1903–1956) m. Lena Mae Brannon (1910–1966)
1. Mary Angelyn Scott (1938–1989)
2. James Howard Scott (1940–)
3. Wanda Joan Scott (1942–)
iii. William Owen Scott (1906–1981) m. Josephine Kelly (1912–2007)
1. Cathy Scott (1946–)
2. William Owen Scott Jr (1949–)
iv. Robert Alfonzo (Jack) Scott (1908–1994) never married
v. Grady J Scott (1911–1995) m. Emma Bingham
1. Linda Dale Scott (1950–)
2. Brenda Gale Scott (1950–)
vi. Martha Maira Scott (1913–2000) m. John Harrison Deckelman (1910–1991) no known children
vii. Unknown son m. (unofficial) Helen Alice Belbon (1913–1983) in Toledo, Ohio (known from DNA)
1. Marie Lee Belbon (1930–2005)
c. Fannie Scott (1880–1960)
m1. Frank S. Boyce (–1915)
i. Frank Scott Boyce (1913–1997) m. Eula V. ? (1913–) no known children
m2. Jim Morgan (1858–1936)
d. Sallie Kit Scott (1881–1908) m Henry Owen (1876–1953) no children, Henry was a cousin of Samuel's wife Mary and Buck's wife Kizzie
e. George Henry Scott (1883–1965) m. 1908, Denton County, TX, Gracie Lee Franks (1896–1975) worked for the railroad in Johnson County, TX
i. Mozell Franks Scott (1914–2001) never married
ii. Helen Coryne Scott (1919–1920)
iii. Georgann Helen Scott (1922–2001) never married
f. Samuel Harrison Scott (1884–1950 farmed in Rutherford County, TN
m1. 1913, Rutherford County, TN, Mary Maude Manire (1889–1919) Mary was sister of Allie Mai Manire who married Horace Scott.
i. George L. Scott (1914–1917)
ii. Jasper Samuel Scott (1915–1990)
m1. Robbie Lee Bellefant (1918–1947)
1. Jasper Samuel Scott Jr (1937–)
2. Marydell Scott (1939–2006)
m2. 1949 Viola Fern Sosbe (1927–2003)
m3. 1951 Carol Ione Brickley (1921–2001)
3. Beverly Ione Scott (1956–)
4. Alan Denton Scott (1958–2011)
iii. Frances Maud Scott (1917–2007) m. James Alsup (1919–1986)
1. Juanita Alsup (1939–)
2. Jean Alsup (1948–)
iv. Infant Scott (1919–1919)
m2. 1921 Mary Evelyne Bennett (1898–1973) Mary was a cousin of Kizzie Evelyn Owen who married Buck, and cousin of Henry Owen
i. Jesse Bennett Scott (1925–2001) m. Leola Stephens (1927–)
1. Jeffery Lynn Scott (1953–)
2. Janice Kay Scott (1955–)
ii. Thomas Lee Scott (1928–1997) m. Alma W Williams (1931–2004)
1. Thomas Lee Scott Jr (1953–)
iii. Cynthia Alberta Scott (1931–2015) m. Terrence Robert Bradley (1930–)
1. James Robert Bradley (1955–1956)
2. Linda Ann Bradley (1961–)
3. Brenda Sue Bradley (1963–)
4. Robert Randall Bradley (1968–)
iv. Carolyn Scott (1935–2004) m. Steven Robert King (1934–2019)
1. Diane King (1958–)
2. Stephen Robert King (1959–1977)
3. Gary Lee King (1961–)
4. Terry Lynn King (1963–)
g. Horace Scott (1887–1976) m 1909 Allie Mai Manire (1891–1986) farmed in Rutherford County, TN. Allie was sister to Samuel's wife, Mary.
i. Margaret Scott (1911–1987) never married
ii. Lucille Manire Scott (1913–1990) never married
iii. Ruth Allie (Dot) Scott (1917–2016) m. Clifton Clyde Tucker (1915–1976)
1. Patsy Ann Tucker (1944–)
2. Linda Gayle Tucker (1947–) first head women's basketball coach at Rice University 1978-1989
h. Hugh T. Scott (1889–1970 m. Clara Ray (1894–1982) farmed in Rutherford County, TN
i. Mary Virginia Scott (1914–2005) m. Raymond Little (1913–1998)
1. Vivian Lee Little (1949–)
ii. Norman Dryden (Mutt) Scott (1917–1988) m. Louise Bennett (1920–2012)
1. Jimmie Shock Scott (1939–1940)
2. Elli Lou Scott (1940–)
3. Norma Kaye Scott (1950–)
iii. Gladys Alene Scott (1923–)
m1. Leonard Prosnick (1921–1944)
1. Sherry Lynn Prosnick ()
i. Vera Scott (1891–1966) worked at pants factory in Bedford County, TN
m1. (unofficial) 1910 David Edward (Eddie D) Ralston (1886–1960) (son of Josephus Ralston)
i. Edna Ralston (1910–1996) m. 1932 Eley Waverly Goodwin (1889–1948) no children
Edna did not appear on the 1920 census which showed Vera Scott still at home listed as single. The 1930 census showed Vera Raulston listed as divorced living in Shelbyville, Bedford County, with mother, Mary Scott, and daughter, 19-year-old Edna Raulston.
m2. 1943, Bedford County, TN, Alex Thompson (1872–1960) no children
j. James Ralston Scott (1894–1958) m. Myrtle Ramsey (1898–1978) farmed in Rutherford County, TN
i. Allen Eugene Scott (1918–1995) m. 1937 Orpha Addine Grissom (1918–1989) no known children
k. Sadie (Alma) Scott (1900–1958) m. Benjamin Franklin Gentry (1884–1963) lived in Bedford County, TN
i. E. Marie Gentry (1921–1987) m. George Morris Gentry 1918–1999
1. Ginger Ruth Gentry 1946–
2. Benjamin Michael Gentry 1954–
ii. Sadie Ruth Gentry (1925–1974) m. Cornelius Taylor (1920–) no known children
6. Nancy Livina Ralston (Daughter of Andrew and Mary Ann) (1859–1945) m 1876 Edward A. (Edd) Giles (1851–1920) farmed in Rutherford County, TN
a. Robert Powell (Bob) Giles (1877–1962) m. Margaret Lena Palmtag (1898–1977) no children, grocer in Los Angeles
b. Fannie Giles (1879–1967) m. Martin C Killough (1872–1945) farmed in Rutherford County, TN
i. Edward Davis Killough (1916–1997) m. Mary Louise Owen (1920–1993)
1. Betty Sue Killough (1940–1989)
2. Doris Jean Killough (1944–)
3. Kathy Killough ()
c. Walter M Giles Jul 1882–1940 m. Blanche Lenoir Blackburn (1879–1964) no children, veterinarian, Franklin, TN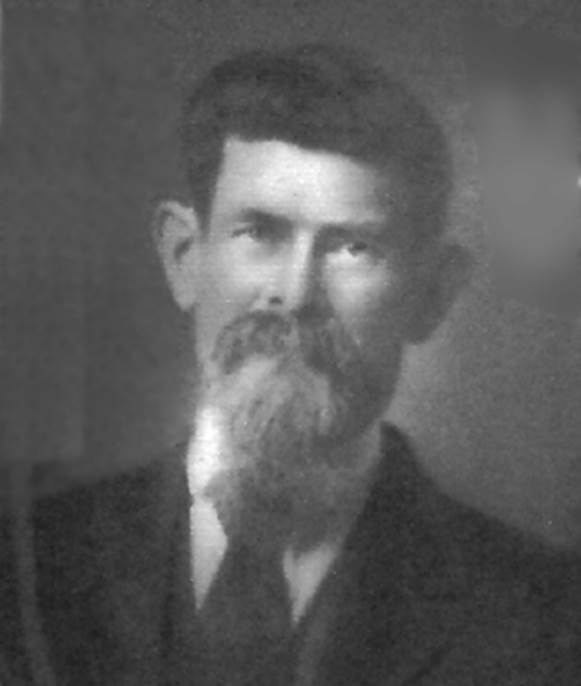 Walter Giles
d. Blake Augustus Giles Feb1889–29 Dec 1969 m. Jimmie Blaine Martin (1888–1967) ran a general store in Rutherford County, TN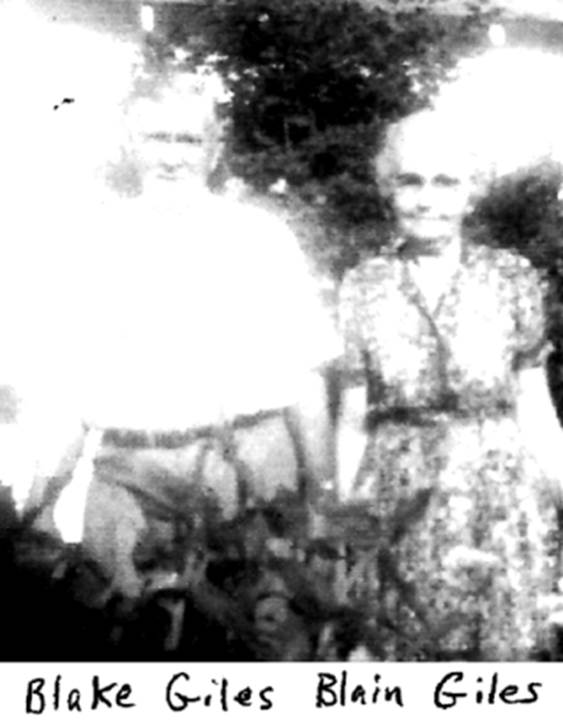 i. Robbie M Giles (1914–1993) never married
ii. Mary Giles (1915–2005) m. Ephriam F. Lytle (1908–1969)
1. Thomas E. Lytle (1944–)
2. Robert E. Lytle (1945–)
iii. Henry Allen Giles (1920–2002)
m1. Mary Jane Purgett (1925–2002)
1. James Edward Giles (1947–)
2. William Henry Giles (1951–1970)
3. Rose Mary Giles ()
m2. Roberta Cornelia Fathera (1935–1997)
4. Aaron Neely Giles ()
5. Kathy Giles ()
iv. Walter Marion Giles (1920–1996) m. Audrey Brannon (1921–1999)
1. Connie Marion Giles (1944–)
2. Michael Brandon Giles (1949–)
v. Blake A Giles (1922–1993) m. Ione Maren Iversen (1915–1998)
1. Gerald Blake Giles (1946–)
2. Philip Giles ()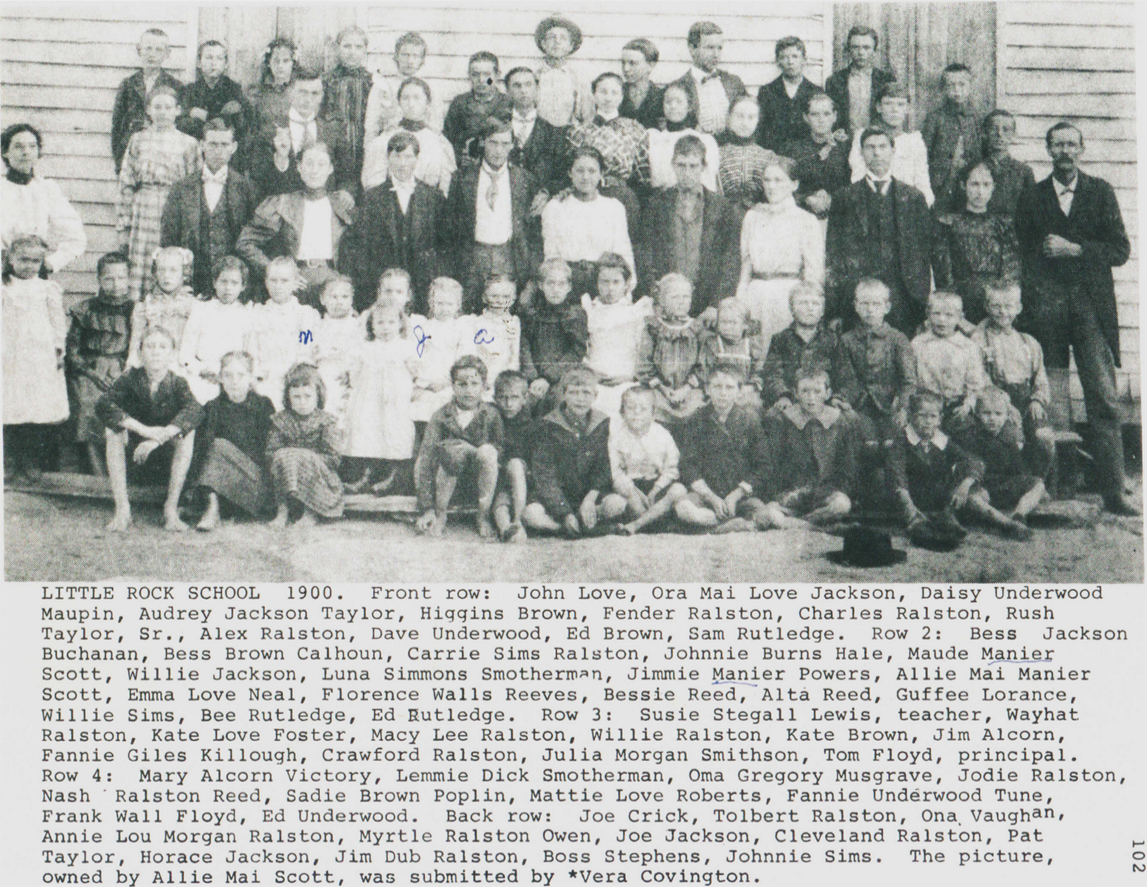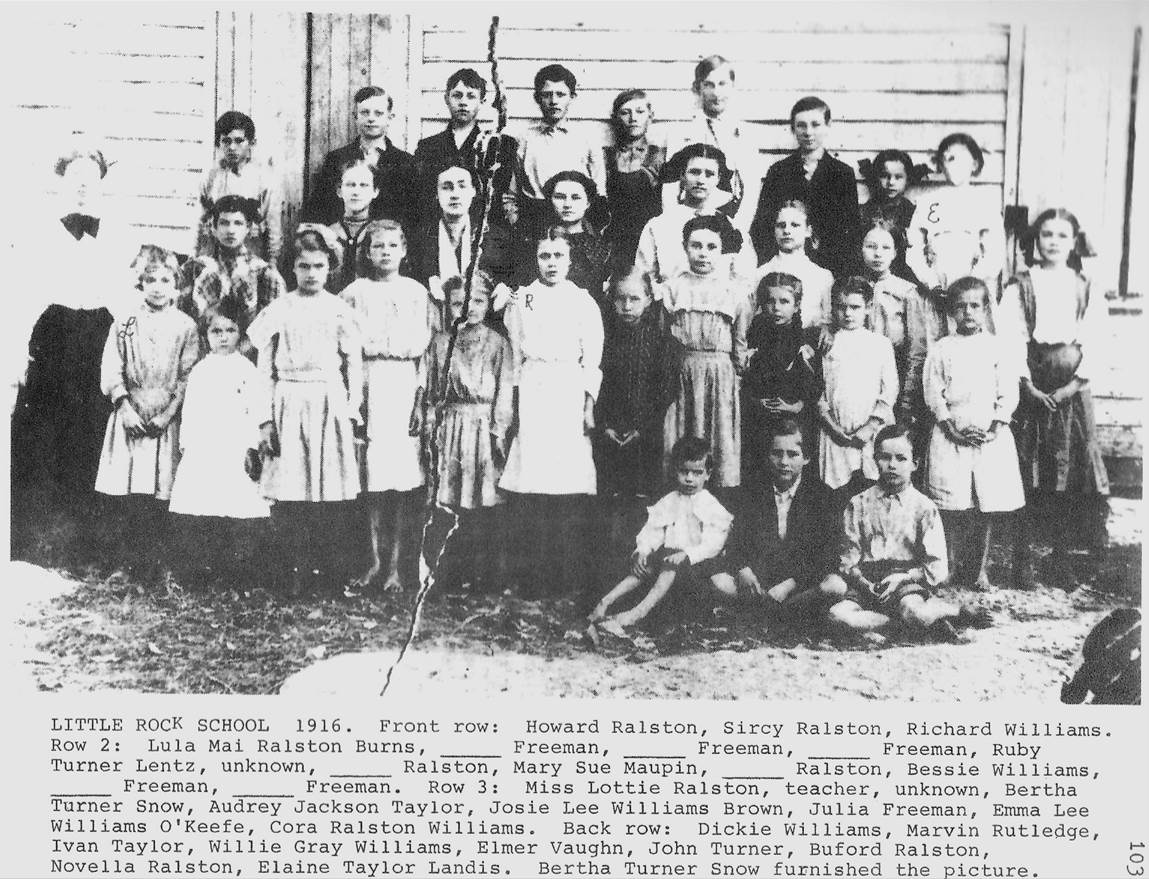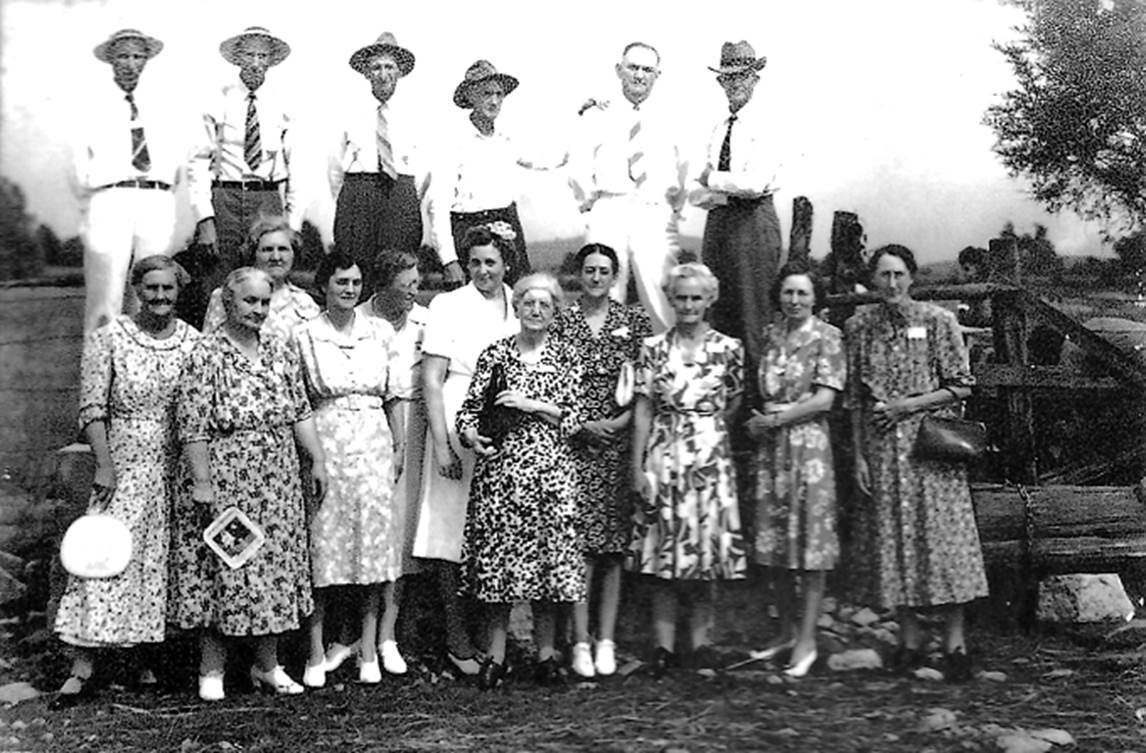 At Jody Ralston's about 1944
Front Row: Molly R. Westbrooks, Aurora R. Powell, Annie Lou Morgan Ralston, Mae Shoemaker Ralston, Minnie Dyer Ralston, Lois R. Collins, Lottie R. Fleming, Elsie Shoemaker Ralston, Fannie Taylor Ralston, Cora, Effie Love Ralston
Back Row: Charlie, Fender, Alec, Jody, unknown, Eddie D.
Ralston Reunions
The first reunion of the Middle Tennessee Ralstons was held in Franklin, TN, September 1886, at the home of George Cannon Ralston, grandson of George Ralston, who was David's son. The attendees at this and most of these early reunions were from the George Ralston line. This was the 1886 attendee list:
NAME HOME
Mr. & Mrs. Robert Locke Ralston Franklin, Tenn.
Florence Gillespie Franklin
George Ralston Franklin
Maggie Ralston Franklin
Henry Ralston Franklin
Robert Ralston Franklin
William Ralston Franklin
Geo. C. Ralston Porterfield, Tenn.
Willie Ralston Porterfield
Mr. Mary Ralston McKay Clarksville, Tenn.
Bettie McKay Clarksville
Myra McKay Clarksville
Mrs. Sarah Ralston Smith Clarksville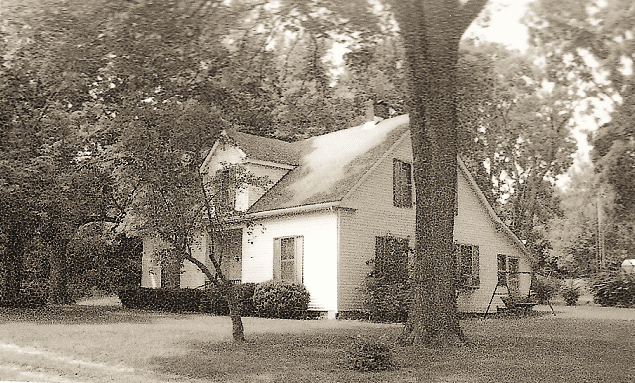 George Cannon Ralston house, Ralston Lane, Franklin, TN
Site of the 1886 Ralston Reunion
(This street in Franklin still bears the name "Ralston Lane")
Through the 1930s the reunions were sponsored by members of the George Ralston family. However, in the early 1900s, descendants of Andrew Ralston were invited and attended the reunions. Some of these reunions were held in Porterville at the home of George Clinton Ralston, the last one there in 1930, just one month before his accidental death.
In the 1940s members of the Andrew Ralston family began sponsoring reunions and the attendance shifted to Andrew's descendants, with less and less of George's descendants attending. Below is an example: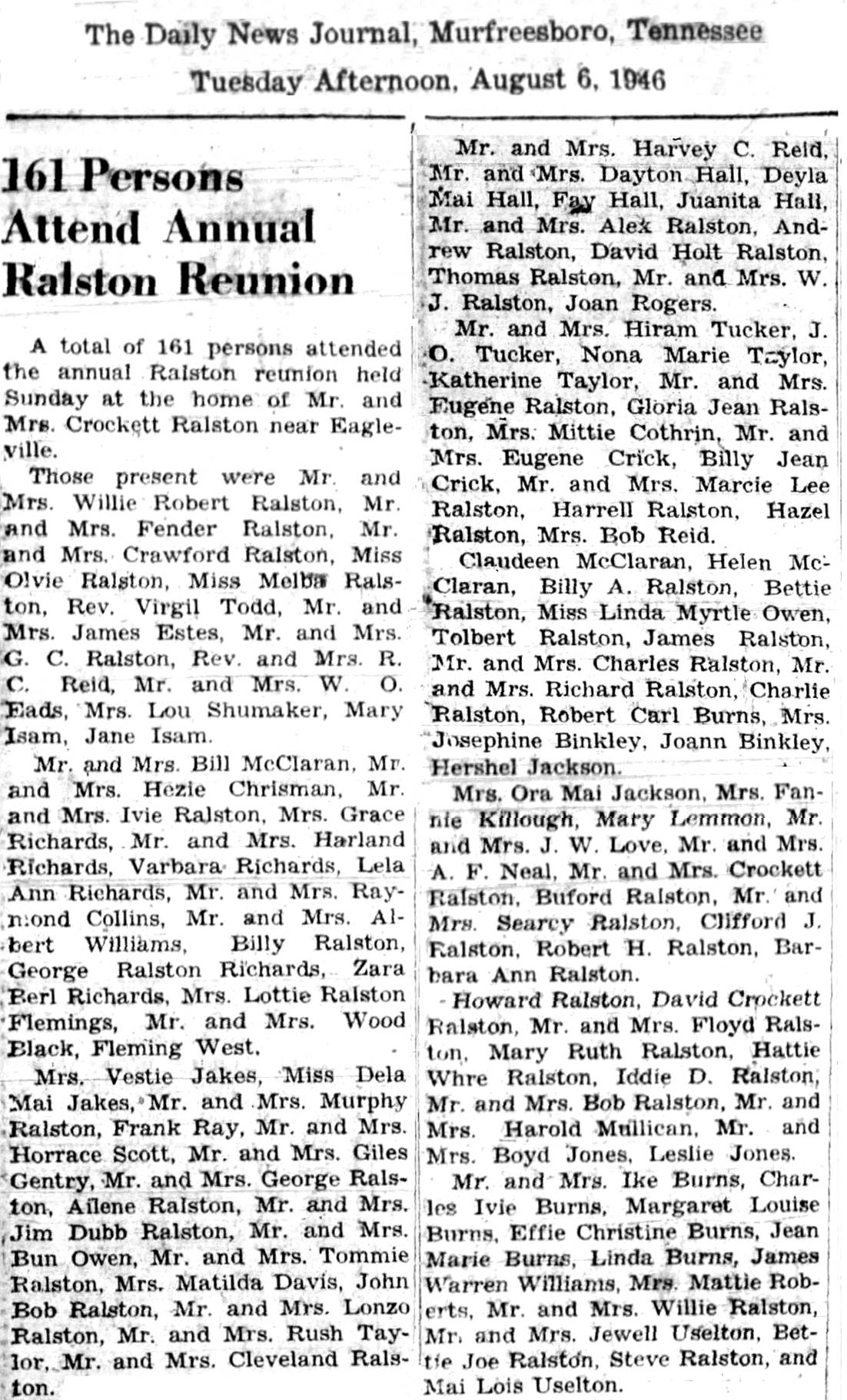 Around 1950 the formal reunions were no longer held. However, in the mid-1980s, descendants of Andrew Ralston resumed the reunion, but at the Eagleville, TN, Community Center, instead of peoples' homes. This has been an annual event ever since. These reunions are primarily attended by Andrew Ralston descendants; however, other descendants of David's other sons have from time to time attended.