John Shelby Ralston
October 13, 1787–November 23, 1865
John was the fourth child of David Ralston and Mary Reid. He was a surveyor in West Tennessee, and one of the early settlers and founders of Shelby County, TN. He surveyed and planned the city of Raleigh, the original county seat of Shelby County. (Raleigh remained county seat until 1868, when it was moved to Memphis.) John also served as a justice of the peace and later became an attorney practicing in Raleigh and Memphis.
John married Lucy Tice McDaniel (1801–1879), August 29, 1822 in Shelby County, TN.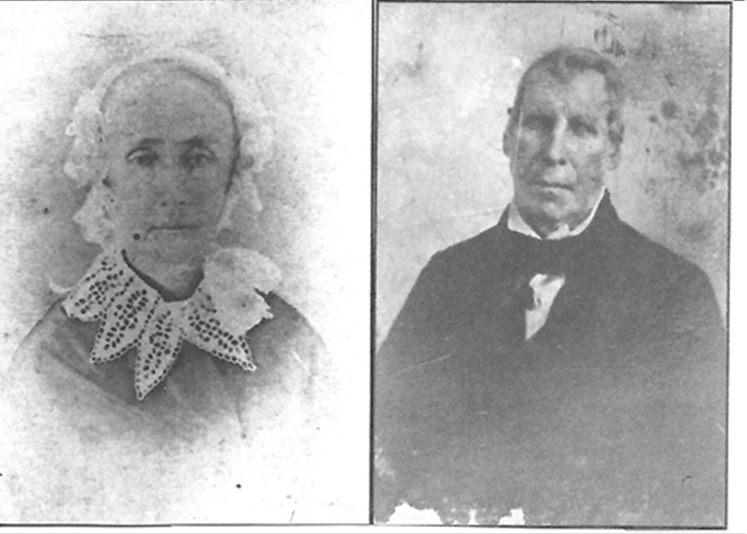 The following is from DAR Supporting Documentation (#6160047) regarding Colonel Clement McDaniel:
"Colonel McDaniel came to the wilds of TN soon after the revolutionary war and settled at or near Nashville. It is said that he attempted to establish iron works there, but failed, and came a few years later to the wilds of what is now Shelby Co. He had a wife, a son and seven daughters. Tradition says that his daughters were very beautiful. Colonel McDaniel located at the mouth of Big Creek, where it empties into the Hatchie river, and where he built tents, opened a clearing, and carried on trade with the Indians. He and his family were among the first white people from the east who settled in this country.
"Mr. John Ralston, one of the early pioneers of this section came here from near Lebanon, TN in 180? when about nineteen years old. He was a surveyor and surveyed large tracts of land both in TN and KY. One day he came suddenly upon Colonel McDaniel's camp, on Big Creek, and was greatly surprised, as he had never heard of the settlement. The colonel could not induce him to come in and face so many handsome girls until he went to the creek and attempted to improve his appearance. It seems that he succeeded then or subsequently, for in 1815 he married Miss Lucy Tice McDaniel, the sixth daughter, then only fifteen years old. Colonel McDaniel died at the residence of his son-in-law, in this Co, over fifty years ago.
"Mr. John Ralston laid out the ancient town of Raleigh, and was one of the first three or five magistrates of Shelby Co. He died in the year 1865 at the age of seventy-nine. His wife, Lucy Tice Ralston, died November 28th, 1879, also at the ripe old age of seventy-nine."
[Note: Since Lucy was born in 1801 and was 15 at the time, this encounter must have happened around 1816. There is documentation that John served as a Captain during the War of 1812, which ended in 1815, which would also fit the 1816 date. John and Lucy did not marry in 1815, but seven years later in 1822.]
In 1989 Mrs. Eugene E. Tibbs wrote in Early Settlers of Shelby County: "David Ralston (born County Tyrone, Ireland, married Mary Reid of Scotland) resided a short time in Pennsylvania, then settled near Nashville where their son, John, was born 13 October 1787. David lived almost a hundred years. John Ralston, a pioneer, justice of the peace and surveyor of Shelby County, died 23 November 1865. His widow, Lucy Tice Mcdaniel, died on or about 23 November 1879, aged seventy-eight. John and Lucy were buried at Big Creek with Clement and Elizabeth Coleman McDaniel in the Ralston family cemetery. (The only gravestone remaining is John Ralston's.)"
"John Ralston had three sons, all killed in the Civil War."
1836 map of Shelby County signed by John Ralston: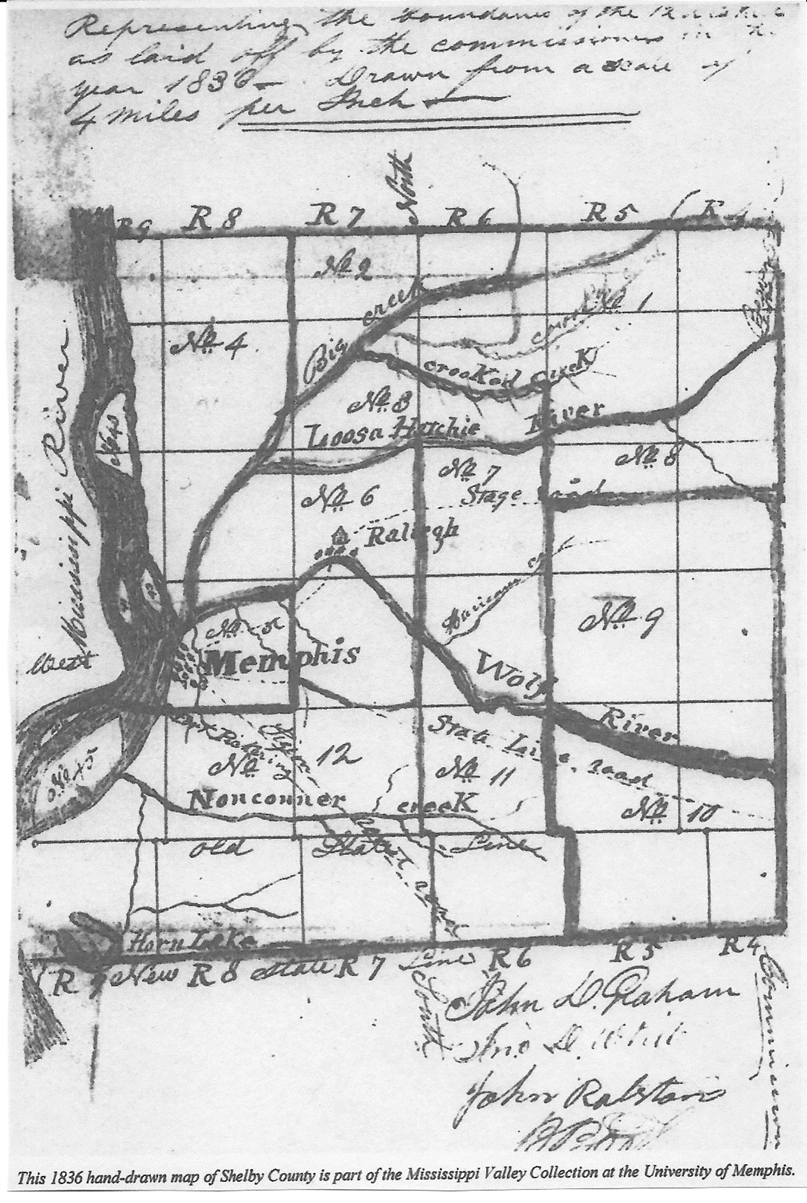 John is mentioned in Memucan Hunt Howard's RECOLLECTIONS OF TENNESSEE:
"I was at Treadwells next morning in time to join John Ralston, and Maj. George Wescott Hockley who were going to the bluff, had seven miles to walk to the mouth of Big Creek where it empties into Loosa Hatchee, at a bluff, then had to paddle a perogue fifteen miles-back water from the Mississippi- to the bluff where we arrived after night, having been delayed by thin ice that formed on the still water…
"Wm. Lawrence edited the first news paper published at Memphis I believe, and Marcus B. Winchester, was the first post master and continued in office a long while- John Ralston, was a remarkably painstaking correct Surveyor, and very carefull in describing, corners & pointers and their relative position-he settled and died on Big Creek in that County."
From an 1828 newspaper article by Jesse Benton, berating Andrew Jackson:
"To establish the fact of this discovery, here is the abstract of a letter to me on the subject from John Ralston, Esq. a man of sterling integrity.
"In the year 1817, I was a deputy under Gen. Coffee in Alabama, and recollect hearing him speak of Colbert's reserve some time in the summer of that year. I do not know that I ought to say Coffee expressed anger at Colbert, but that he expressed his surprise at the quantity of land contained in said reserve, and spoke of the commissioners having been deceived in the quantity contained in said reserve I do recollect. I believe in that reserve there were two special points, to include which, it included a much greater quantity than was expected by Coffee, or perhaps any other person, before the survey was made in the year 1817."
From The Goodspeed Publishing Co., History of Tennessee, SHELBY COUNTY TN:
"At the time the country was organized, May 1, 1820, there were probably less than twenty actual settlers within its limits, and no other settlement within seventy-five miles. The office of the Eleventh Surveyor's District was opened about the 6th of December, 1820, at the house of Thomas D. Carr on the fourth Chickasaw bluff. Those in attendance at that time, as near as can now be ascertained, were Jacob Tipton, William Lawrence, John Ralston, W. L. Byler and the clerk of the office, Alfred Taylor."
"Public roads being a public necessity, early attention was given to them. On May 3, 1820, the county court ordered Thomas H. Persons, Charles Holman, Joshua Fletcher, M. B. Winchester, J. C. McLemore and William Irvine to mark out a road from Memphis to the county line in the direction of Taylor's Mill settlement on Forked Deer River. This was the first public road in the county. The second road in the county was established in May, 1821, by Jessee Benton, John Ralston, Nat. Kimbrough, John Kimbrough, E. Deason, Edward Bradley, D. C. Tradewell, Robert Mickleberry and John Reeves. This road led from Memphis to the settlement on Big Creek and Loosahatchie, thence to Forked Deer River."
"Isaac Rawlings, John Ralston and Thomas Persons were the first commissioners to settle with the trustee and collector of taxes. The sheriff, county court clerk and solicitor were each allowed $42.50 for ex officio services for 1821. R. Reynolds was allowed $12 for four full grown wolf scalps. The coroner was allowed $16 for burying a man named McCrere who had committed suicide. Russell Bean, William Dean, J. M. Riddle, Joab Bean, J. W. Oldham and John Mazles were appointed patrollers of Shelby County. Benj. E. Person was licensed to practice law May 5, 1823. The following marriage licenses were issued from May to July, 1820: O. W. Carr to Mary Hill, Russell Bean to Mary C. Harklerood, John Chandler to Sarah Cockraham, William Irvine to Mary Carr, Thomas W. Floyd to Polly Campbell, Jacob Beard to Peggy Grace, and Lindsey Shoemaker to Jane Moore. The marriage ceremonies were performed by Jacob Tipton, John Ralston, A. B. Carr and M. B. Winchester, justices of the peace respectively"
From Standard History of Memphis, Tennessee:
"The next year [1821] another road was made from Memphis to a settlement on Big Creek and Loosahatchie and on to Forked Deer River. The men who established this important road were Jesse Benton, John Ralston, John Reeves, Robert Meckleberry, D. C. Treadwell, Nathaniel Kimbrough, Edward Bradley, E. Deason and F. Kimbrough."
From General History of Hernando and Desoto County:
"The land around Hernando was surveyed in 1833 and 1834 by John Ralston, John Frazier and James W. Summer, deputy surveyors under John Bell, surveyor of lands in Mississippi ceded by the Chickasaws."
From Millington by Rita Hiltenbrand Hall Images Of America Series, 2012:
"The City of Millington was incorporated in 1903, but like every other town, it has a history much older than its charter would seem to indicate. The first settlers of this portion of north Shelby County arrived within the first two decades of the 19th century. Col. Clement McDaniel has a well-established homestead and an active trade going with the local Native Americans when surveyor John Ralston, quite to his surprise, stumbled upon the McDaniels while plotting land claims for North Carolina's Revolutionary War veterans sometime before 1820. In 1822, John Ralston married the colonel's daughter Lucy and settled near the McDaniel homestead. It is rumored that the community Lucy is named for this young bride and the Ralstons came to be great landholders in the area."
From The Rural Heritage Trust - Lucy:
"It is believed to be named after Lucy Tice McDaniel Ralston who belonged to one of the first families to settle the area. While traveling the Mississippi they were driven up the Loosahatchie River by a storm. They used the wood from the riverboat to build their cabin."
Cumberland College in Lebanon, TN, established a law school in 1847. John Ralston, at age 65, was among the early students in the school – graduating in 1856 at age 69.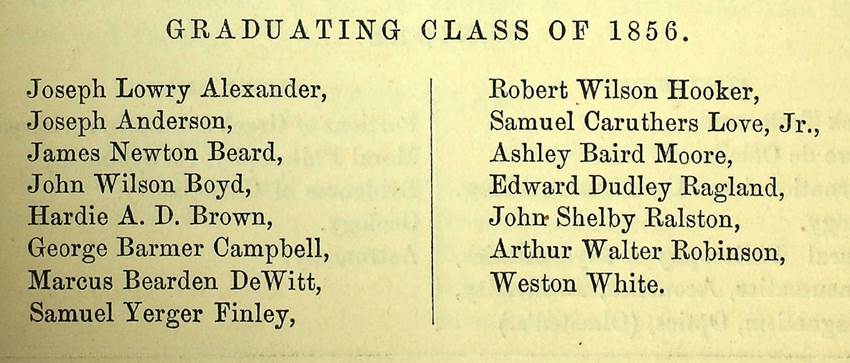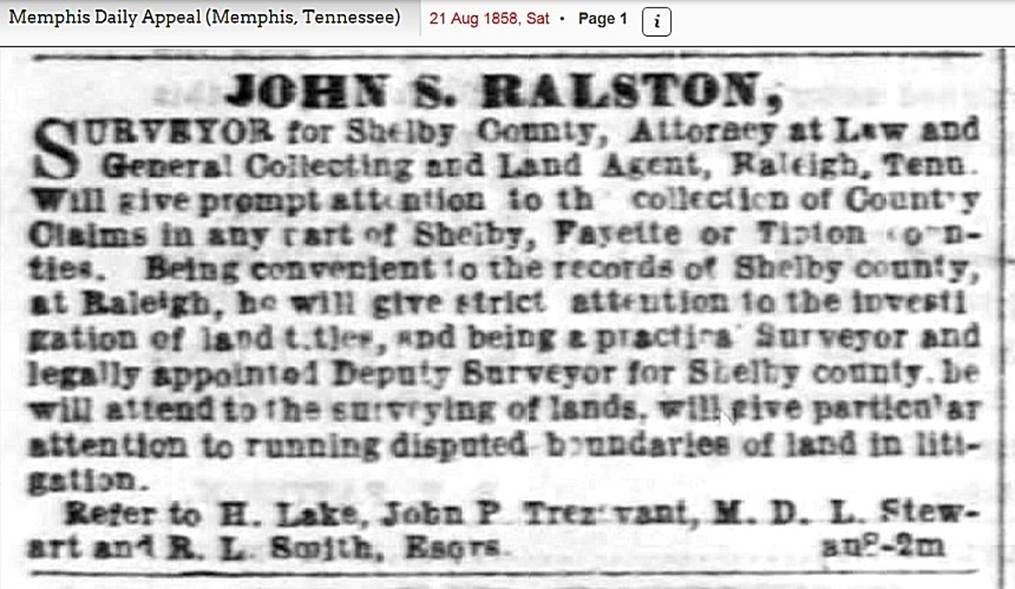 There is no record that John had used a middle name or initial until he attended law school. It is unknown if he always had the middle name "Shelby", or if he decided he needed a middle name while at school, and, perhaps, picked "Shelby" after the county of his residence.
John ran for Attorney General in Shelby County in 1858 but was unsuccessful.
John is buried in the John Ralston Family Cemetery, Lucy, Tennessee, south of Millington. His tombstone is inscribed:
Sacred to the Memory of
John Ralston
Died Nov. 23, 1865
Aged 78 years
One of the pioneers of Shelby Co.
CHILDREN and GRANDCHILDREN:
1. David C Ralston (1828– Bef. 1865) m. 1849, Shelby, TN, Elizabeth Green Winston (1833–) born and lived in Shelby County, TN – The 1850 census lists him as a farmer. David is said to have died during the Civil War, but the 1860 census showed Elizabeth and son, William, living with Benjamin Winston, her father.
a. William E Ralston (1850– ) m. Dolly ? (1852– ) born in Shelby County, last seen on 1870 census with wife, Dolly. No other records.
2. John N Ralston (1832– Bef. 1865) born and lived in Shelby County. John is shown of 1850 and 1860 census living with his parents. His occupation is listed as lumber dealer. No record of a marriage. He is said to have died during the Civil War.
3. Eliza Ralston (1834–1915) m. 1858 Edward Woodford Brooks (1830–1901) lived in Shelby County, TN; KY; Dekalb and Fulton Counties, GA
a. Lula Florence Brooks (1859–1956) m. 1887, Dekalb County, GA, James Robert Mell (1857–1923) lived in Dekalb and Fulton Counties, GA
b. Woodford Brooks (1864–1942) m. 1908, Schuyler, NY, Mary Edna Quigley (1870–) born in Shelby County, TN, stock broker in Queens, NY
c. Clyde Livingston Brooks (1867–1907) m. 1892, Fulton County, GA, Hallie A Hulsey (1869–1895) born in Shelby County, TN, attorney in Fulton County, GA
d. Lawrence Ralston Brooks (1870–1954) m. 1904 Maine, Ethel Francis Fairfield (1874–1938) born in Shelby County, TN, attorney in New York and Texas
e. Percy Chevalier Brooks (1872–1937) m1. 1904 Wisconsin, Laura Sparks (1874–), m2. 1914 New York City, NY, Edith King Stockley (1884–1915) businessman, born in Shelby County, TN, lived in GA, WI, NY, and IL
f. Shirley Victor Brooks (1875–) m. Laura L Sartelle (1892–1970), born in Kentucky, lived in GA, MO, NY, and NJ. Was a reporter, businessman and broker.
4. Lucy Francis Ralston (1837–1895) m. William McDonald Coleman (1832–1900) born and lived in Shelby County, TN
a. Annie Estella Coleman (1864–) m. 1882 John B Fleming (1855–) born and lived in Shelby County, TN
b. Lyda Belle Coleman (1867–1958) m. 1888 Dr. Wilford Harris Gragg, Sr. (1853–1915) born and lived in Shelby County, TN
c. Sarah Sallie Coleman (1871–) born in Shelby County, TN, unknown
d. Maude Coleman (1872–1948) born and lived in Shelby County, TN, never married
e. William McDonald (Don) Coleman Jr (1875–1932) m. Lillian C Smith (1889–) born and died in Shelby County, TN, farmed in Tunica, MS
f. Emmett Barney Coleman (1876–1943) salesman, born and lived in Shelby County, TN, never married
g. Fannie Coleman (1879–) born in Shelby County, TN, unknown
5. James L Ralston (1841– Bef. 1865) only listed on the 1850 census at 9 years old. No record of a marriage. He is said to have died during the Civil War.